Advanced Micro Devices Inc. (AMD) produces semiconductor products and devices including microprocessors, chipsets, graphics, video and multimedia products for a wide range of devices including PC's and industrial machinery.
Key Statistics
52-Week Range
Avg. Daily Vol (3 Mo)
Market Value
Dividend Yield
Float %
Target Price
Consensus Rating
(5 strong buy – 1 strong sell)
Next Earnings Announcement
36.75 – 94.28
51,632,212
99,271.8
–
99.4%
89.25
3.92
28/01/2021
. The microprocessors are used for PCs, servers and game consoles while embedded processors control functions in industrial machinery, telecommunications and medical imaging.
The company operates with two main segments, computing & graphics and enterprise, embedded and semi-custom. The Computing & graphics products include the Ryzen chips for PCs and Radeon graphic processors for game systems, accounting for roughly 70% of revenue. The enterprise, embedded and semi-custom segment makes up the remaining 30% of sales and is used across data centres, machine applications, and security and storage systems. Manufacturing of AMD's products is outsourced to third parties including GlobalFoundries and Taiwan Semiconductor Manufacturing Company while AMD assembles, tests and packages the products. The largest markets are the U.S. and China, accounting for 25% of revenue respectively, followed by Japan +12.5%, Europe +11.3% and Taiwan +10.7%. Distribution of products is through a direct sales team as well as independent distributors.
AMD recently announced the $35b all stock acquisition of Xilinx, a maker of chips that can be reconfigured for specialised tasks, allowing AMD to broaden its business into markets such as 5G and automotive electronics as well as growth in data centres and cloud. The deal increases AMD's estimated total available market, which measures the total market demand for a product or service, to $110b from $79b and is expected to be accretive to margins and earnings immediately.
The recent Q3 2020 financial results surpassed analyst estimates on stronger client demand for the Ryzen chips and growth in server CPU and gaming. The company also provided stronger guidance for Q4,with strong client demand expected to drive sales in gaming due to the launch of new Playstation and Xbox consoles (semi-custom) and GPU, guiding revenue to rise 7% over the 4th quarter or 41% year-on-year from 32% previously. Overall revenue for the year ended December 2020 is forecast to rise +9.7% to $9,486.66m and a further 25% in 2021 to $11,854.46m. Adjusted earnings per share is forecast to grow +91% in 2020 to $1.225 and another +48% in 2021 to $1.81. Based on these figures the stock trade on forward P/E multiples of 67.38 and 45.6 for 2020 and 2021 respectively, compared peers which trade on averages of 100.5 and 41.4 respectively.
The average target price of analysts covering the stock is $89.25 with 51% of analysts rating the stock as a buy, compared to 7% as a sell and 41% as a hold.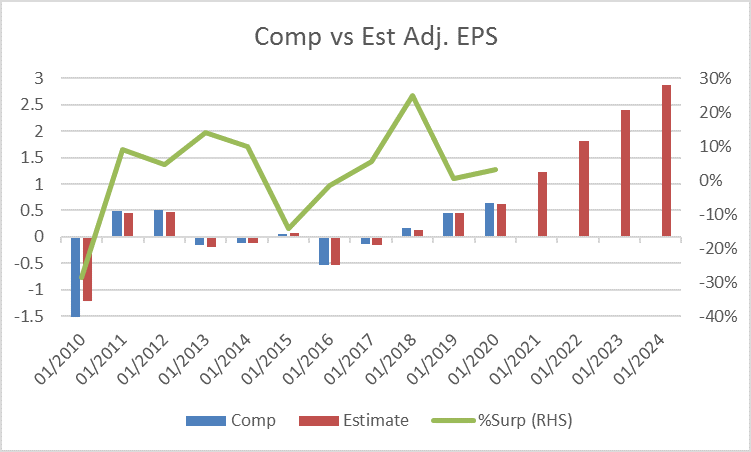 We are glad you liked it
For your convenience, this will appear under your Saved articles in the top menu.