Strategy
Investing
Australia
Low risk investments in a low interest rate world
19 Nov 2019
As interest rates in Australia continue to move lower, it is becoming harder and harder to find investments that offer a decent return, without having to take on excessive risk.
As interest rates in Australia continue to move lower, it is becoming harder and harder to find investments that offer a decent return, without having to take on excessive risk. The below chart shows the movements in the RBA Cash Rate rates over the past 15 years. After peaking at 7.25% in late 2008, the RBA Cash Rate has largely been in decline, except for a brief period of increases between 2009 and 2011.
The current RBA Cash Rate of 0.75% is an historic low. This is not just an Australian story either. Globally, as economies have struggled to recover from the Global Financial Crisis (GFC) in 2008-2009, Central Banks have responded by aggressively easing monetary conditions as much as possible.
Historically, fixed interest, i.e. term deposits, have been a reliable investment for those looking for a steady low risk return. They have been particularly favourable for retirees or those close to retirement. The reason being, is that as one gets closer and closer to finishing up full time work, focus shifts from capital growth and accumulation to capital protection, i.e., simply holding on to what you have. However, with interest rates on term deposits having followed the RBA Cash rate lower, term deposits have offered less and less in terms of a return. As a result, more and more investors have been pushed out along the risk spectrum in order to find investments that will provide a decent standard of living. So how do investors in the current environment generate a return without putting their capital at an unwanted level of risk?
Chart 1: RBA Cash Rate 2004 – 2019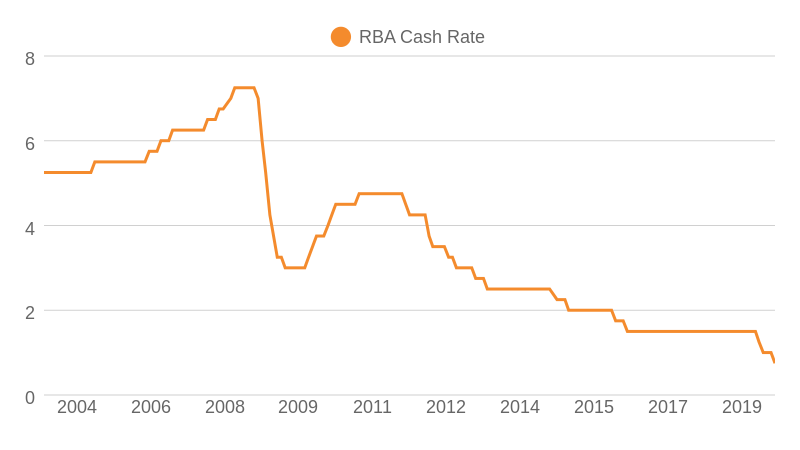 Four years ago, Rivkin introduced a 'strategy' to help investors deal with this dilemma, which over the long run has an annual net return of approximately 6.5% p.a. Named the Low Volatility, or LV Portfolio, it utilises a multi-asset approach in order to construct a portfolio that performs considerably better than term deposits but without the volatility that one would associate with equities. Based on the 'Permanent Portfolio' by Harry Browne, it aims to provide a safe investment in any economic environment, whether that be expansionary growth, recessionary, inflationary, or deflationary.
LV combines investments in multiple asset classes, being international equities, gold, bonds, and cash, and does so via ASX listed ETFs. The benefit of ETFs is that they are very liquid and can be bought and sold as simply and quickly as normal shares. While it may seem counterintuitive to have a cash component given the level of current interest rates, the rationale is to hold the above-mentioned asset classes through all market cycles, avoiding the need to worry about timing the market. The asset classes are weighted equally and rebalanced whenever one of the asset classes becomes either under or overweight by 2%, meaning they are maintained to a weight band of between 23% and 27%.
The below chart shows the performance of the LV strategy (in blue) over the past 18 months. We have also included the ASX200 Accumulation Index (grey line) as a reference and the target rate, being RBA cash rate +4% (orange line). Over this 18-month period, the LV portfolio has gained 14.9%, well above the target rate of 8.5%.
Chart 2 – Performance over the past 18 months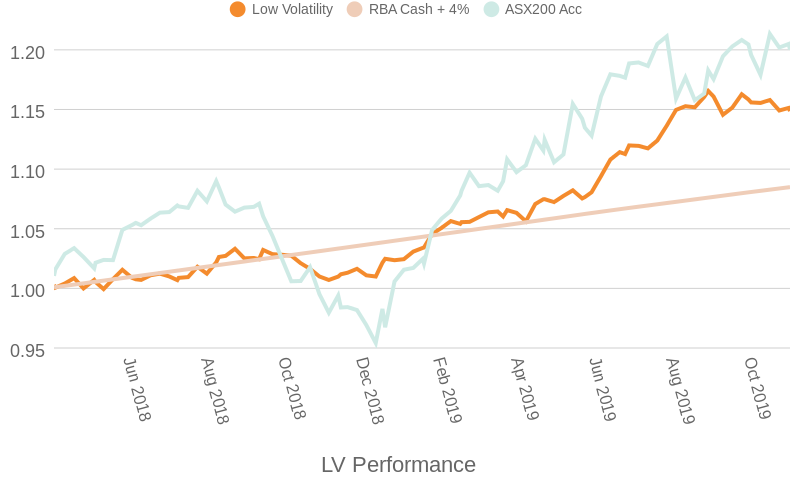 Although the LV strategy has returned less than the ASX200 at 20.0% (which is to be expected), to highlight the lower risk that the LV strategy has in compared to the Australian stock market, we can compare the depth of the drawdown experienced in late 2018. The maximum decline in equity in 2008 for the ASX200 was 12.87%. Even though these losses were completely recovered, such a drawdown can lead to an increased level of anxiety for investors. Even worse, it can lead people to make irrational decisions such as selling portfolios near the lows. As a comparison the maximum equity drawdown in the LV portfolio over the same time was only 2.26%.
As interest rates continue to fall, we expect to see a continued increase in alternative investments, that can offer an appropriate return without the increased risk and volatility of a straight equity portfolio.
For more information on Rivkin's Low Volatility portfolio, which we offer to both wholesale and retail investors on our new SMA platform, please contact us on 02 8302 3600 or complete the form below to receive the product information documentation.
Rivkin does not ever provide financial advice. Please consider your own circumstances before purchasing any of our products or acting on our general advice, for any Rivkin product or recommendation.
We are glad you liked it
For your convenience, this will appear under your Saved articles in the top menu.