Morning Market Wrap: ASX set to rally on last day of the financial year
30 Jun 2020
With US and European equity markets closing higher on Monday, the ASX200 SPI futures have rallied in overnight trading, gaining 67 points to close at 5874.
Today is the last day of the 2020 financial year, and while it has not been a great one for equities as a whole, the ASX200 is looking at gains on market open, with ASX SPI200 futures up a little over 1% in overnight trading. The ASX shed 89 points on Monday to close at 5815, which translates to a performance over the past financial year to approximately -12%. Despite the negative return, prices have staged a strong recovery since March, off the lows at 4402.50. From a technical perspective, prices are currently consolidating between support at 5720, marked by the June low and 6000, marked by recent highs. The direction that prices break from this range will lead to the next trending move.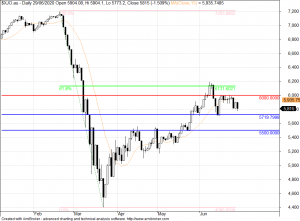 In trading overnight, the S&P500 closed 44.19 points (+1.47%) higher, while the Dow Jones added 580.25 points, a gain of 2.32%. As can be seen on the chart below, prices are respecting strong support at the 3000 level, marked from the June lows and the 200-day moving average.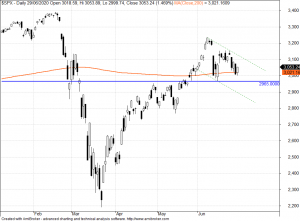 Equity markets continue to look past the current pandemic, with the World Health Organisation warning that the "worst is still to come because of a lack of global solidarity".  Tension between the US and China remain, not only over the handling of the virus, but more increasingly regarding Hong Kong. On Monday, the Trump administration has revoked the special treatment for sensitive technologies to be exported from Hong Kong, potentially beginning the processes of removing the special trading status from the territory completely.
Boeing (BA) was the top performer from the Dow Jones, gaining over 14%, following a report that the US aviation regulators have approved a set of test flights for the 737 Max to begin on Monday. As readers may remember, the 737 Max has been grounded since March 2019 following two fatal crashes off the coast of Indonesia in October 2018 and Indonesia in March 2019.
In Aussie stock news, Collins Foods (CKF) are due to release their financial results today, while the US JC Flowers has handed the National Australia Bank (NAB) an indicative bid for MLC Wealth. The former Westpac CEO David Morgan who moved to JC Flowers in 2009 is reportedly heavily involved in the offer.
*Note: These prices are based on futures and/or CFD pricing and may therefore differ slightly from spot pricing.
In commodity news, spot gold prices are relatively flat, currently trading at around US$1773 an oz, while WTI Crude Oil futures gained over 3% to close at US$39.70 a barrel. Iron ore prices gained marginally to US$103.11 a tonne, while base metal prices were also firmer, with copper (+0.08%), aluminium (+0.47%), and nickel (+0.96%) all up.
This article was written by Oliver Gordon – Portfolio Manager, Rivkin Securities Pty Ltd. Enquiries can be made via [email protected] or by phoning +612 8302 3623.
Rivkin does not ever provide financial advice. Please consider your own circumstances before purchasing any of our products or acting on our general advice, for any Rivkin product or recommendation.
We are glad you liked it
For your convenience, this will appear under your Saved articles in the top menu.