Morning Market Wrap: ASX to open flat as equities pause
7 Apr 2021
U.S. equities paused after reaching record highs as yields fell with the U.S. dollar index in light trading.
There was little U.S. data on Tuesday to guide markets other than the U.S. JOLTS report for job openings, a sign of labour demand, which rose 268k to 7.4m in February vs 6.9m expected, raising the jobs opening rate to 5.1% and a two-year high. The data is a positive sign that employers are increasingly seeking to fill open positions as the economic recovery picks up and progress on vaccinations continues. One would generally expect yields to rise on this data, however, yields fell as traders pared the knee-jerk reaction and brought forward expectations of rate hikes following stronger jobs data on Friday. Additionally, following a weak quarter for fixed income a rebalancing is likely to be impacting asset classes, buying those assets which have underperformed and selling those which have outperformed.
Yields across the curve decline, led by the 5-year which fell -5 basis points, while the 2-year dropped -1 basis point as did the 10-year down -4.4 basis points. The S&P500 finished little changed, down just -0.10% as technology underperformed -0.38% while utilities and consumer staples outperformed +0.53% and +0.33% respectively. The Russell 2000 dropped -0.25%, the Nasdaq Composite was little changed, and the VIX rose +1.17% to 18.12. European equities advanced governments began the process of reopening the economy after Easter with the Euro Stoxx 600 rising +0.70% to a record high, as did the DAX +0.70% and the FTSE100 outperformed up +1.28%. The Euro strengthened +0.53% on Tuesday with a weaker USD offsetting a larger than anticipated rise in the unemployment rate for February which rose to 8.3% vs expectations of 8.1%, while the prior figure of 8.1% was also revised higher to 8.3%.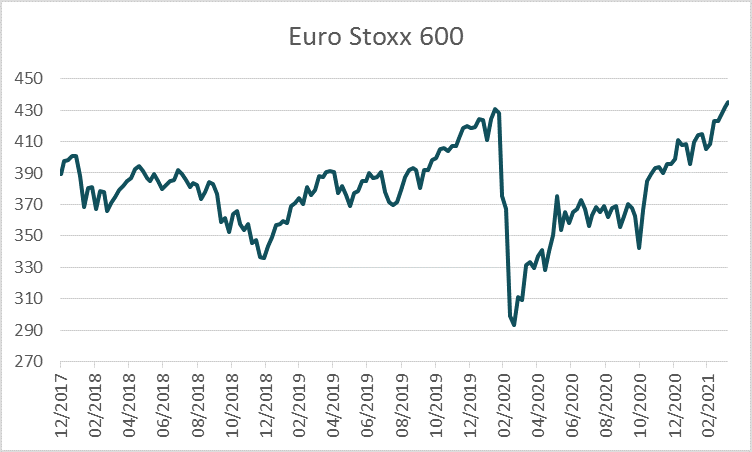 *Note: These prices are based on futures and/or CFD pricing and may therefore differ slightly from spot pricing.
The ASX looks set for a fairly flat open this morning with ASX200 futures up just +0.04% to 6,863. The benchmark index gained +0.84% on Tuesday led by gains in technology +5.14%, materials +0.82% and industrials +2.30% while energy -0.06% and utilities -0.20% lagged. Technology shares rebounded after selling in recent weeks with Afterpay rising +9.97%, as did Zip Co. +9.07%, PointsBet +7.24%, HUB +5.67%, and WiseTech Global +5.18%. Cleanaway Waste Management was the top performer, up +15.9% after reaching an agreement to buy the Australian assets of Suez, the French waste group, for $2.52. Travel stocks also received a boost after an announcement that New Zealand would open a travel bubble with Australia from April 19th, with WEB up +4.73% and FLT +4.36%. The Australian dollar rose +0.17% to 0.7664 after the RBA left interest rates unchanged as widely forecast on Tuesday, providing no new guidance and reiterating that monetary conditions would remain highly supportive until further progress had been achieved.
Oil prices recovered some of Monday's declines after OPEC announced it would begin to ease off production cuts in coming months with both WTI and Brent crude up +1.16% and +0.95% respectively. Base metals gained with iron ore rising +0.57% on Tuesday and is up a further +0.65% in Singapore this morning, aluminium also gained +0.61%, as did Nickel +0.91% and copper edged +0.05% higher. Precious metals also rose on Tuesday, boosted by both a weaker U.S. dollar and lower real yields, with spot gold up +0.87% and silver up +1.14% while Bitcoin edged -0.78% lower, remaining modestly below all-time highs.
Economic data:
Australian Services PMI (MoM Mar) 09:00
Eurozone PMI (MoM Mar) 18:00
U.K. PMI (MoM Mar) 18:30
U.S. Balance of Trade (MoM Feb) 22:30
U.S. Crude Oil Stockpiles (2nd April) 00:30
FOMC Minutes 04:00
This article was written by Alex Single, Investment Accounts Manager, Rivkin Securities Pty Ltd. Enquiries can be made via [email protected] or by phoning +612 8302 3632.
We are glad you liked it
For your convenience, this will appear under your Saved articles in the top menu.