Morning Market Wrap: ASX to open flat, Wall Street dips as USD rises on inflation data
3 May 2021
U.S. equities declined on Friday but still posted weekly gains as the U.S. dollar rallied on firmer economic data.
The U.S. dollar index gained +0.73% on Friday, snapping a week three losing streak to rise +0.46% after personal consumption expenditure, the Fed's preferred gauge of inflation, climbed in March. Core prices rose +0.4% for the month, above the +0.3% estimated and previous reading of +0.1% taking gains to +1.8% over the year. Headline inflation also rose +2.3% over the year from +1.5% previously. Elsewhere the Michigan Consumer Sentiment Index for April rose to 88.3 from 84.9 previously, also topping estimates of 87.4.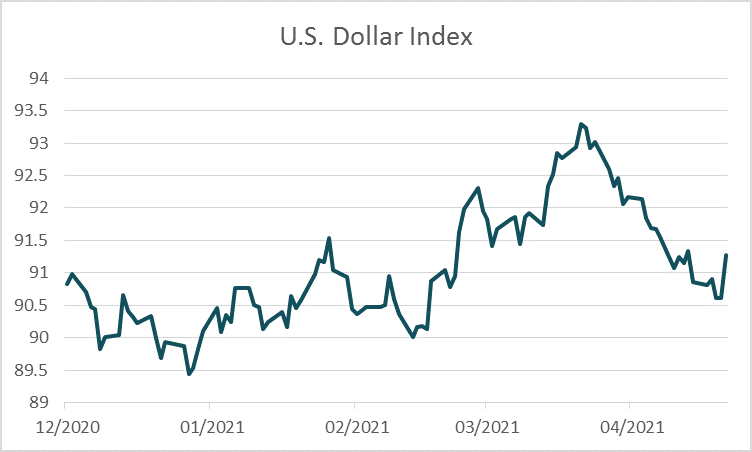 The S&P500 declined -0.72%, although posted a weekly gain of +1.05% and +3.11% for the month taking year-to-date gains of +11.32%. Technology shares, which account for just over a quarter of the index weight, weighed on the index on Friday with the sector down -1.43%, financials also weighed down -0.96% as did communications -0.89%. The Nasdaq Composite fell -0.85% as did the Russell 2000 down -1.26% with the VIX rising +5.68% to 18.61. Treasury yields edged lower despite the positive economic data, with the 2-year down -0.4 basis points to 0.158%, and the 10 and 30-year yields finished -0.8 and -0.1 basis points lower. Given the potential impacts of month-end rebalancing, as well as economic data that is impacted by base effects, it's hard to read too much into market moves on Friday, particularly with strong earnings for Q1 with more companies than average topping forecasted earnings.
European equities also declined on Friday following GDP and inflation data that showed the Eurozone recovers at a far slower pace than the U.S. Core prices for April rose +0.8% year on year as forecast, with headline inflation rising +1.6% from +1.3% previously as estimated. GDP for the first quarter declined at a -0.6% annualised rate, better than the -0.8% forecast, falling -1.8% over the year vs -2% forecast. The Euro Stoxx 600 declined -0.31%, as did the CAC40 -0.53%, FTSE MIB -0.56% and DAX30 -0.12% while the FTSE100 edged +0.12% higher. Both the Euro and Pound slipped against the U.S. dollar, down -0.83% and -0.87% respectively with yields across the region mixed but little changed.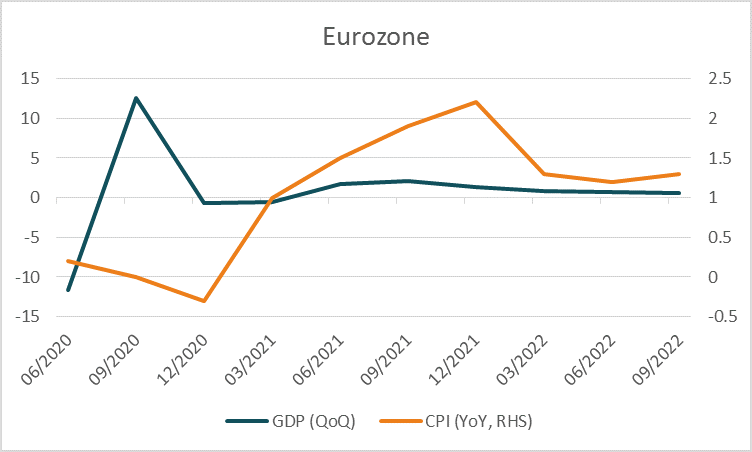 *Note: These prices are based on futures and/or CFD pricing and may therefore differ slightly from spot pricing.
The ASX looks set for a relatively flat with ASX200 futures down just -0.1% at 6,995. The benchmark index fell -0.80% on Friday, pushing the index into negative territory for the week by -0.49%, as materials -1.33% and financials -0.67% weighed on Friday. Over the week, consumer staples were the worst performer, down -3.44% followed by technology shares -2.26% and consumer discretionary -1.52% while utilities +0.56% and industrials +0.34% outperformed. Beach Energy was the worst performer on Friday slumping -24.11% after downgrading it's full-year forecast after an unexpected -5% decline in production rates with the business pointing to a failure to model reserves accurately. PointsBet was the toped performer, rising +7.42% after active clients rose by +169% to 285,500 and gross win, the profit from losing client bets less winning bets, rose +275% to A$100.5 million.
Oil prices retreated on Friday with both WTI and Brent crude down -2.20% and -1.90% to US$63.58 and US$66.76 a barrel respectively. Base metals were generally lower, with copper down -0.61% after touching decade highs earlier in the week, aluminium also fell -0.8%, as did iron ore -1.94% to US$184.05 in Singapore while nickel gained +2.42%. Spot gold edged -0.17% lower on Friday to US$1,769.13 an oz, with the more volatile silver down -0.69% to US$25.92 while Bitcoin jumped +7.22% to US$56,814.
Economic data:
Australian Manufacturing PMI (MoM Apr) 09:00
Eurozone Manufacturing PMI (MoM Apr) 18:00
U.S. Manufacturing PMI (MoM Apr) 23:45
This article was written by James Woods, Portfolio Manager, Rivkin Securities Pty Ltd. Enquiries can be made via [email protected] or by phoning +612 8302 3632.
We are glad you liked it
For your convenience, this will appear under your Saved articles in the top menu.