Morning Market Wrap: ASX to rise ahead of RBA, Wall Street rises as technology lags
4 May 2021
U.S. equities rose on Monday although closed-off session highs as technology shares lagged despite a decline in Treasury yields.
The S&P500 gained +0.27% after briefly rising as much as +0.67%, as declines in Tesla Inc. -3.46% and Amazon.com -2.33% limited the index's advance. Health care outperformed rising +1.17%, as did industrials +1.03%, offsetting declines in technology -0.22% and communications -0.39%. The Nasdaq Composite fell -0.48%, the Russell 2000 advanced +0.49% and the VIX finished -1.61% lower. The U.S. dollar dipped -0.35% as Treasury yields declined with the 2-year unchanged while the 10 and 30-year dipped -2.8 and -1.3 basis points respectively. A further 137 S&P500 companies are set to report earnings this week before the season begins to wind down, with the 312 that have reported so far averaging +23.23% higher than forecast earnings with 86.7% of companies beating estimates.
10-year breakeven inflation expectations rose +2.2 following data which showed material prices paid by manufacturers rose to the highest levels since 2008, and coupled with the decline in nominal yields, 10-year real yields fell -4.8 basis points to -0.83%. The U.S. ISM manufacturing PMI for April missed estimates of a rise to 65 with a reading of 60.7 as manufacturers face rising material prices and large numbers of unfilled orders. Elsewhere Fed Chair Jerome Powell said that while the economy is making real progress, gains remain uneven particularly for those in lower-paid jobs. New York Fed President John Williams also stated current conditions are not enough for a shift in monetary policy.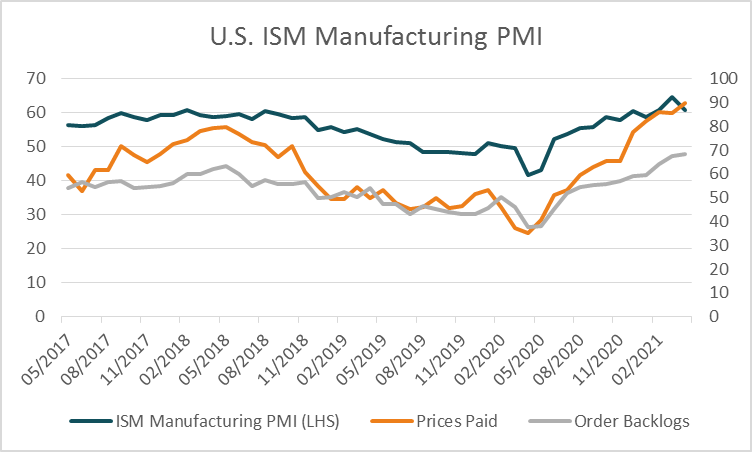 European equities rose after the European Commission outlined plans to loosen tourism restrictions and manufacturing PMI remained strong despite modestly missing estimates, echoing similar comments to those in the U.S. about prices rises and lengthening delivery times for customer orders. The Euro Stoxx 600 rose +0.58% , as did the CAC40 +0.61%, DAX30 +0.66%, IBEX35 +0.89% and FTSE MIB +1.15% while U.K. markets were closed for a public holiday. The Euro rose +0.37% to 1.2064 as did the Pound, up +0.64% to 1.3911. Bond yields across the region ticked lower with 10-years down between -0.3 basis points in Germany to -3 basis points in Italy.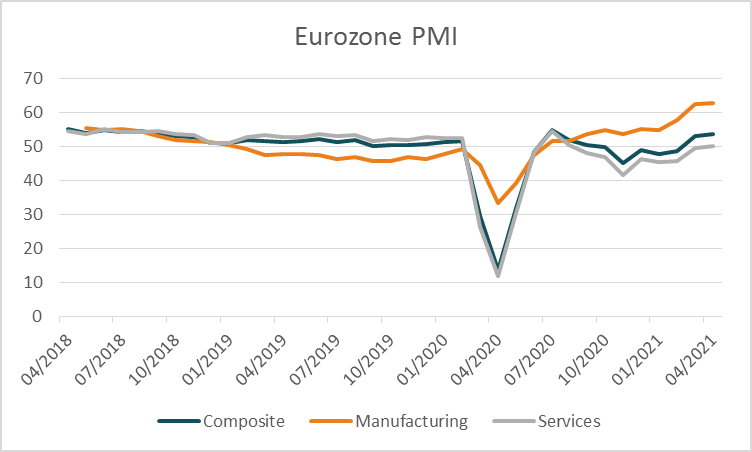 *Note: These prices are based on futures and/or CFD pricing and may therefore differ slightly from spot pricing.
The ASX looks set to open modestly higher this morning with ASX200 futures up +0.20% at 7,018. The index finished flat on Monday, up just +0.04% as gains in financials +1.42% offset a -1.01% decline in materials and -1.94% drop in technology stocks. The Australian dollar is trading +0.61% higher at 0.7763 ahead of the Reserve Bank's decision on monetary policy today. Expectations are for no change to the current policy with the board reviewing growth and inflation forecasts, incorporating the recent weaker inflation and a stronger than anticipated recovery in the labour market.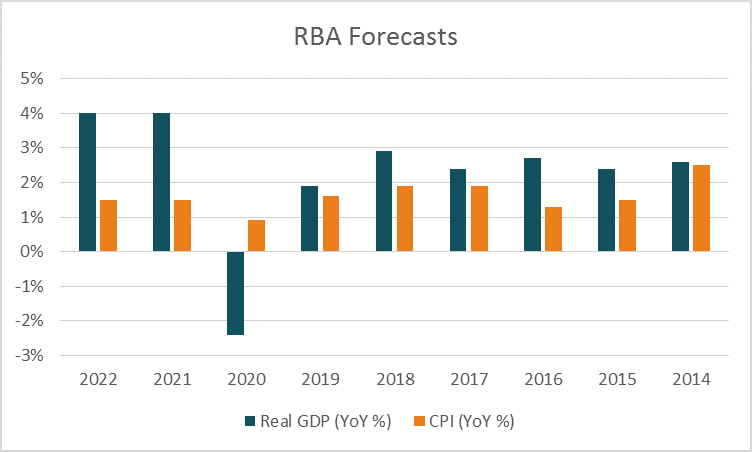 Oil prices rose on Monday with both WTI and Brent crude up +1.43% and +1.32% at US$64.49 and US$67.64 a barrel respectively. Iron ore futures in Singapore fell -1.96% on Monday although have reversed those declines in early trade this morning to be +2.07% higher at US$183.36. Precious metals were supported by a weaker USD and lower real yields, with spot gold up +1.34% to US$1,792.88 with the more volatile silver advancing +3.81% to US$26.91 while Bitcoin edged -0.40% lower to US$56,811.
Economic data:
Australian Balance of Trade (MoM Mar) 11:30
RBA Interest Rate Decision 14:30
U.K. Manufacturing PMI (MoM Apr) 18:30
U.S. Factory orders (MoM Mar) 00:00
This article was written by James Woods, Portfolio Manager, Rivkin Securities Pty Ltd. Enquiries can be made via [email protected] or by phoning +612 8302 3632.
We are glad you liked it
For your convenience, this will appear under your Saved articles in the top menu.