Morning Market Wrap: ASX to slip despite Wall Street posting records on fiscal stimulus
30 Apr 2021
U.S. equities swung between gains and losses before closing at record highs following positive GDP data as well as ongoing fiscal and monetary support.
The U.S. economy grew at a 6.4% annualised rate over the first quarter according to an initial reading, modestly below estimates of 6.7% but higher than the 4.3% rate in the fourth quarter of 2020. Growth was supported by personal consumption, which accounts for the largest part of the economy, at an annualised rate of 10.7% with the economy now back at pre-pandemic levels. President Joe Biden also unveiled a US$1.8 trillion spending plan which saw U.S. futures rally during Asian trading hours on Thursday. Elsewhere initial jobless claims for April 24th were lower than forecast at 553k vs 549k estimated, with the prior figure revised higher to 566k from 547k.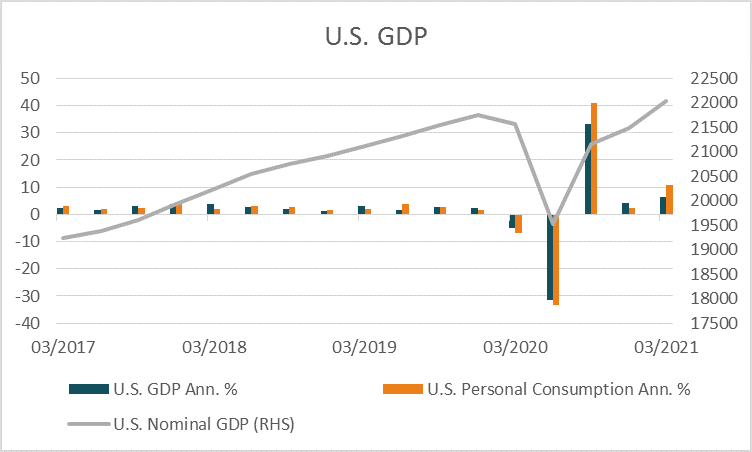 The S&P500 gained +0.68%, rising to a new all-time high, boosted by communication services +2.75% and financials +1.82% while health care lagged -0.39% and technology was little changed at -0.03%. Shares in Facebook rose +7.30% after topping earnings estimates on Wednesday after the market closed, while Amazon shares climbed +3% in after-hours trading following its biggest profit on record with first-quarter revenue up +44% at US$108.5 billion with earnings of US$15.79 per share vs US$9.69 forecast. The Nasdaq Composite closed +0.22%, the Russell 200 declined -0.38% and the VIX rose slightly by +1.91% to 17.61. The yield on 2-year Treasuries edged -0.2 basis points lower to 0.162% while the 10 and 30-year rose +2.5 and +0.9 basis points to 1.634% and 2.298% respectively and the U.S. dollar index edged +0.04% higher to 90.64.
European equities finished lower on Thursday with the Euro Stoxx 600 down -0.26%, as did the DAX30 -0.90%, CAC40 -0.07%, and FTSE100 -0.03%. Bank shares were a bright spot with financials in the Euro Stoxx 600 up +0.43% supported by rising yields, with 10-year yields across the region ranging between +3.8 basis points in Germany to +4.5 basis points in the U.K. The Euro was little changed, down just -0.04% to 1.2121 and the Pound edged +0.06% higher to 1.3944.
*Note: These prices are based on futures and/or CFD pricing and may therefore differ slightly from spot pricing.
Despite the positive lead from Wall Street, the ASX looks set to open on a weaker note this morning with ASX200 futures down -0.23% to 7,045. The benchmark index rose +0.25% on Thursday, putting the record of 7,197 in reach while the total return index which includes reinvested dividends has already moved to new all-time highs. The index was lifted by materials +0.80% and technology +2.24% while consumer staples -1.27% and consumer discretionary -0.55% lagged. Major miners gained with BHP up +0.91%, as was RIO +0.88%, MIN +3.49%, and LYC +4.78% while FMG edged -0.18% lower as it raised capital spending guidance for projects to A$3.7 billion from A$3.5 billion while telling investors it expects to ship between 178 to 182 million tonnes of iron ore for the financial year, a record amount.  Gold miners benefited from a rise in the precious metal on Wednesday thanks to a dovish tonne from the Fed with NCM up +2.35%, as was NST +2.35%, EVN +2.60%, and RMS +6.77%.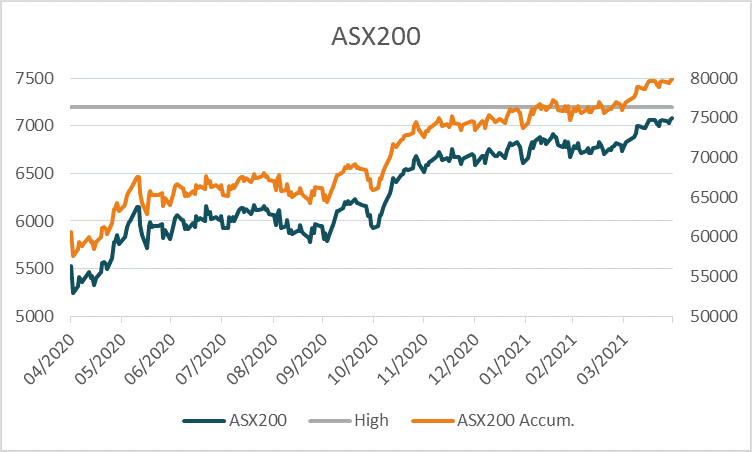 Commodity prices were generally higher on Thursday with WTI and Brent crude up +1.80% and +1.90% to US$65.01 and US$68.55 a barrel respectively. Iron ore futures in Singapore posted a modest gain of +0.13% to US$187.70 although are trading -1.17% weaker this morning. Spot gold weakened -0.53% on Thursday to US$1,772.18, as did spot silver -0.40% and Bitcoin extended a two-day decline finishing -2.66% lower at US$52,990.
Economic data:
Chinese Manufacturing PMI (MoM Apr) 11:00
Eurozone Inflation (YoY Apr) 19:00
Eurozone GDP (QoQ Q1) 19:00
U.S. Personal Consumption Expenditure (YoY Mar) 22:30
Michigan Consumer Sentiment (MoM Apr) 00:00
This article was written by James Woods, Portfolio Manager, Rivkin Securities Pty Ltd. Enquiries can be made via [email protected] or by phoning +612 8302 3632.
We are glad you liked it
For your convenience, this will appear under your Saved articles in the top menu.