Morning Market Wrap: ASX200 set for a weaker open, with futures down 83 points
20 May 2020
Financial markets can be fickle at times.
Not less than one day after Moderna (NDAX:MRNA) reported encouraging results from their initial vaccine trail, the news is now that the data release is not substantial enough in order to assess its success. While this is being credited for the move lower in US equities on Tuesday, it is more likely just the financial press looking for a reason to justify the decline. Sometimes, there is no major story, and it is simply down to there being more sellers than buyers on a particular day. What we find interesting, is that the S&P500 held up well for the majority of the trading session, only to sell off strongly into the close,  a phenomenon we have witnessed several times over the past couple of weeks. It is often said that retail traders do most of their buying and selling at the open of the trading session, whereas institutional investors are more active at the close. So, assessing how markets close the daily session can be important on the assumption that institutional investors are more informed. Given the occurrence of several weak closes over the past few weeks, it appears that institutional investors are using this bounce to lighten their exposure, which could suggest additional upside is limited.
In terms of the numbers, the S&P500 closed the trading session down 30.97 points (-1.05%) at 2922.94, while the Nasdaq100 held up better, declining only 0.36% at 9298.54. As evident on the chart below of the S&P500, prices continue to struggle at the Fibonacci 61.8% retracement level, having now provided resistance on three attempts. It would take a break above this level plus a move above the 200-day moving average at 2998.39, to be confident that the recent advance is more than just a corrective rally.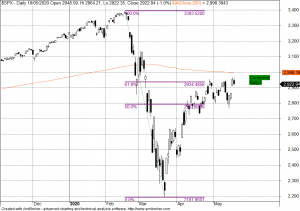 Led by the real estate (+3.79%), energy (+3.61%0, and materials (+3.54%) sectors, the ASX200 rallied on Tuesday, gaining 1.81% to close at 5559.52. James Hardie (ASX:JHX) was one of the top performers from the index, gaining 11.20%, following the release of their updated financials, showing better than expected annual profit. The stock closed the day at $23.82, which remains well below updated broker price targets of $34.10 from Macquarie bank, and US$31.00 from UBS. The weaker performers were the mid cap gold miners, selling off following a retreat in the AUD gold price.
From a charting perspective, the ASX200 has broken above resistance at the 5550 level, which has capped prices for the past month. This now opens a move towards the 5800 to 6000 levels in the short-term. An initial test will be how the ASX200 trades today, as SPI200 futures are down 83 points in overnight trading. Should the market manage to recover at least a portion of these early losses, it would bode well for higher levels over the coming week, while a move back into the recent trading range would muddy the picture.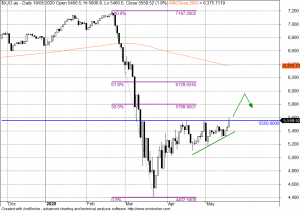 *Note: These prices are based on futures and/or CFD pricing and may therefore differ slightly from spot pricing.
To commodities, and energy prices were largely weaker, with WTI crude oil closing at US$31.71 a barrel, while base metals prices were mixed. Aluminium was lower by 0.27%, while both copper and nickel traded higher, closing 0.71% and 1.66% up respectively.  The Australian dollar is currently trading at US$0.6542.
This article was written by Oliver Gordon – Portfolio Manager, Rivkin Securities Pty Ltd. Enquiries can be made via [email protected] or by phoning +612 8302 3623.
Rivkin does not ever provide financial advice. Please consider your own circumstances before purchasing any of our products or acting on our general advice, for any Rivkin product or recommendation.
We are glad you liked it
For your convenience, this will appear under your Saved articles in the top menu.