Morning Market Wrap: Equities led lower by technology, commodities rise, ASX to open lower
23 Feb 2021
U.S. equities extended a recent pullback, led by technology shares, from all-time highs as rising yields seemingly weighed on sentiment.
The S&P500 slipped -0.77% with technology shares weighing the most given their 27% weight in the index, with the sector down -2.26%. Utilities which are generally seen as a substitute for bond yields also underperformed, down -1.96% while energy outperformed +3.76% on rising oil prices. The Nasdaq Composite fell -2.28%, the Russell 2000 closed -0.69% lower, and the VIX rose +6.35% to 23.45 although was off-session highs of 25.09. The U.S. dollar index edged lower despite rising Treasury yields ahead of Fed Chair Jerome Powell's semi-annual testimony before Congress. The 2-year edged higher by +0.8 basis points, the 10-year rose +3.2, as did the 30-year by +5 basis points, and 10-year inflation-protected yields gained +1.1 basis point to -0.81%.
European equities also closed lower but well off their session lows despite better than anticipated data in Germany in the form of the IFO Business Climate survey. The Euro Stoxx 600 weakened -0.44% paring declines of as much as -1.28%, the DAX30 closed -0.31% lower, as did the CAC40 -0.11% and FTSE100 -0.18%. Travel shares outperformed rising +4.29% after U.K. Prime Minister Boris Johnson outlined plans to reopen and restart the economy beginning in April. The Euro gained +0.30% against the USD despite a decline in yields with 10-years across Europe down between -2 to -3.7 basis points.
German businesses are increasingly optimistic about the economic outlook with the expectations component of the IFO survey for the next six months beating estimates with a reading of 94.2 up from 91.1 previously and forecasts of 91.7. Businesses were also positive on their current circumstances with the business climate component rising to 92.4 from 90.1 previously and topping estimates of 90.5. Inflation data due at 21:00 AEDT on Tuesday is expected to remain below target, forecast to rise +0.2% for the month in January and +0.9% over the year, with core inflation rising +1.4% over the year.
*Note: These prices are based on futures and/or CFD pricing and may therefore differ slightly from spot pricing.
The ASX200 looks set for a fairly flat open despite the negative lead from Wall Street with ASX200 futures down just -0.19% with stronger commodity prices overnight and higher yields expected to support the material and financial sectors. The ASX200 closed -0.19% lower on Monday at 6,780.89 with a +2.58% gain in materials shielding the index from a much larger decline with all other sectors lower for the day led by health care -2.17% and technology -1.74%. The Australian dollar advanced +0.57% to 0.7914 boosted by firmer commodity prices, an economy that has been relatively shielded from the pandemic, and rising yields with the 10-year jumping +17 basis points to 1.60%.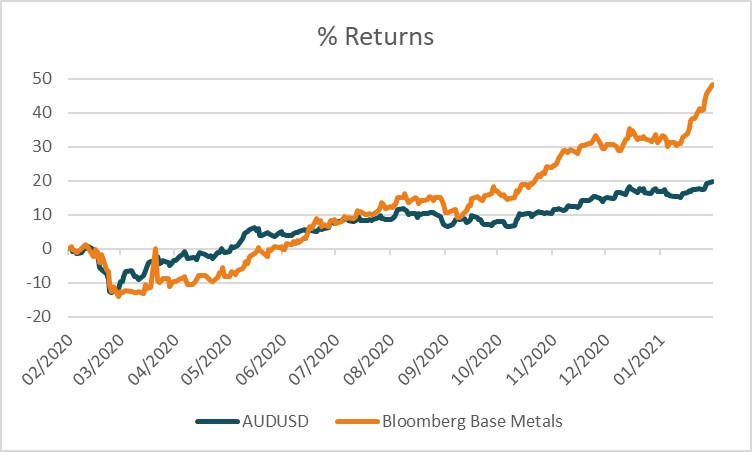 Commodities were generally higher across the board with both WTI and Brent crude up +3.80% and +3.69% respectively. Copper gained +4.17% to US$8,909.50 as it continues to march towards its 2011 all-time highs of US$10,190, nickel gained +3.21%, iron ore climbed +1.81% in Singapore while aluminium slipped -0.28%. Precious metals rose with both spot gold and silver up +1.34% and +3.24% while Bitcoin pulled back from its recent all-time high, dipping -5.38% to US$54,269.
Economic data:
U.K. Employment (MoM Nov) 18:00
E.Z. Inflation (YoY Jan) 21:00
U.S. CB Consumer Confidence (MoM Feb) 02:00
Fed Chair Powell Testimony 02:00
This article was written by James Woods, Investment Accounts Manager, Rivkin Securities Pty Ltd. Enquiries can be made via [email protected] or by phoning +612 8302 3632.
We are glad you liked it
For your convenience, this will appear under your Saved articles in the top menu.