Morning Market Wrap: Equities mixed, AUD rises with commodities, ASX to open lower
22 Feb 2021
U.S. equities finished trading mixed on Friday and lower for the week as non-cyclical sectors underperformed as the yield curve continued to steepen.
The S&P500 edged -0.19% lower on Friday to 3,906 and finished -0.25% lower for the week as weekly declines in utilities -2.76%, health care -1.71%, and technology -1.44% outweighed gains in energy +4.50%, financials +3.78%, and materials +3.78%. The Nasdaq Composite was little changed on Friday, up just +0.07% but declined -1.08% for the week, while the small-cap Russell 2000 jumped +2.18% and the VIX closed -1.96% lower at 22.05. Data Friday showed that manufacturing remained at expansionary levels despite extreme weather in large parts of the country, with a reading of 58.5 for February, in line with forecasts.
The U.S. yield curve continued to steepen, with the spread between the 10 and 2-year yields rising +4.4 basis points to 1.237% to the highest levels since early 2017 shown on the chart below. In recent years concerns over rising rates have coincided with a sell-off in equities, and while we never say "this time is different" there are several factors supporting equities at the moment including combined fiscal and monetary stimulus, rising earnings, the reopening of the economy and expectations of an elusive reflationary environment. That should bode well for cyclical sectors, although the rising yield curve will continue to attract attention, particularly at the Federal Reserve and the question remains, what level they will allow longer-term rates to rises to given their uncertain outlook on the long-term impact from the pandemic.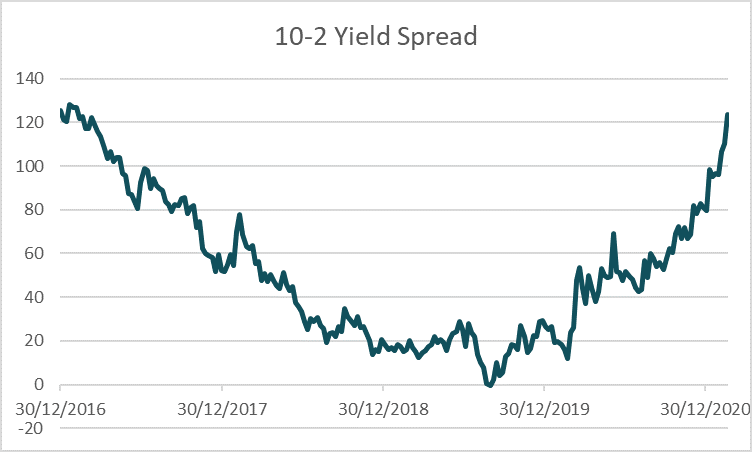 In Europe equities rose with the Euro Stoxx 600 up +0.53% on Friday and edging +0.21% higher for the week led by resources +7.18%, banks +4.32%, and travel & leisure +3.48%. The CAC40 also gained +0.79%, posting a weekly gain of +1.23%, as did Spain's IBEX35 up +1.20% for the week while the DAX closed -0.40% lower. The Euro gained +0.22% against the USD on Friday, finishing unchanged for the week around 1.2119. The preliminary reading for Eurozone composite PMI for February was in line with estimates of 48 with a reading of 48.1 as lockdowns continued to weigh on the services sector. Manufacturing remained at expansion levels with a reading of 57.7 surpassing estimates while services weighed at 44.7 below the 45.9 forecast. The Pound also rose +0.29% to the highest levels since April 2018 as positive vaccine rollouts continued to support sentiment and PMI data was better than forecast. The preliminary readings for February showed composite PMI at 49.8 beating estimates of 42.2, manufacturing rose to 54.9 vs 53.2 forecast, and services posted a reading of 49.7 against estimates of 41.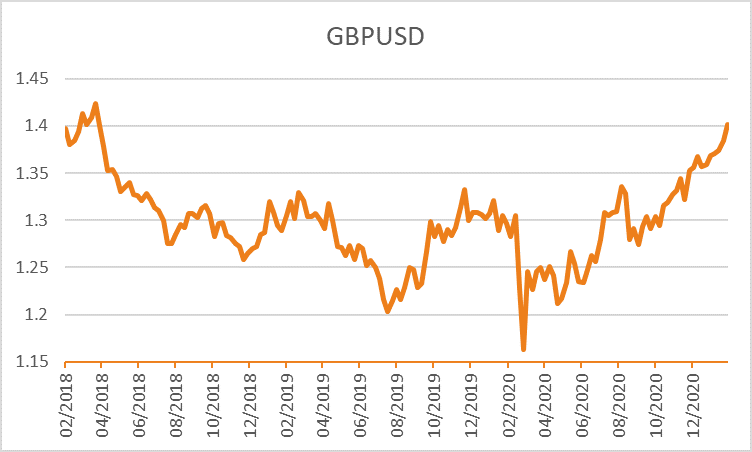 *Note: These prices are based on futures and/or CFD pricing and may therefore differ slightly from spot pricing.
The ASX200 looks set to open modestly lower this week with ASX200 futures down -0.20% to 6,721. The benchmark index slipped -1.34% on Friday and posting a weekly loss of -0.19% as weekly declines in utilities -4.13%, consumer staples -3.17% and real estate -3.0% outweighed gains in materials +1.83% and financials +0.49%. The Australian dollar rose +1.30% on Friday to the highest levels since March 2018 supported by firmer commodity prices and optimism on the economy which has been relatively shielded from the pandemic compared to other economies. PMI data for February signalled the economy was expanding with manufacturing at 56.6 down from 57.2 previously and services at 54.1 vs 55.6 previously.
Base metals continued to gain last week led by copper which jumped +4.17% on Friday and rose +6.93% for the week. Iron ore futures in Singapore edged -0.64% lower on Friday but posted a weekly gain of +4.86% to trade at US$168.44. Aluminium and nickel both gained for the week, up +2.01% and +5.49% respectively. Oil prices weakened as some wells in Texas reopened, with both WTI and Brent down -2.12% and -1.60% on Friday. Precious metals posted weekly losses despite gains on Friday, with gold and silver down -2.19% and -0.26% for the week. Bitcoin continued to new all-time highs, up +2.18% on Friday and +18.28% for the week to US$57,795.
Economic data:
German IFO Business Climate (MoM Feb) 20:00
ECB President Lagarde Speech 01:30
U.S. CB Leading Index (MoM Jan) 02:00
E.Z. Retail Sales (QoQ Q4) 08:45
This article was written by James Woods, Investment Accounts Manager, Rivkin Securities Pty Ltd. Enquiries can be made via [email protected] or by phoning +612 8302 3632.
We are glad you liked it
For your convenience, this will appear under your Saved articles in the top menu.