Morning Market Wrap: Equities slip as yields rise, AUD gains on job data, ASX to open lower
19 Feb 2021
U.S. equities declined on Thursday, although closed well off their session lows, as initial jobless claims continued to signal significant slack remains in the labour market and a rise in real-yields weighed on equity valuations.
Initial jobless claims for February 13th were 861k, higher than the 773k estimated and the prior week's figure of 793k was also revised 55k higher to 848k. Continuing claims for the week ending February 6th declined to 4.494m from a revised higher 4.558m prior, again above forecasts for 4.425m. The figures are seasonally adjusted, and given the unique circumstances resulting from the pandemic, adjustments are likely to create volatility in the numbers. Still, the disappointing figures along with recent employment data suggest the labour market has a long recovery ahead, despite better than anticipated non-labour data recently including retail sales and producer prices.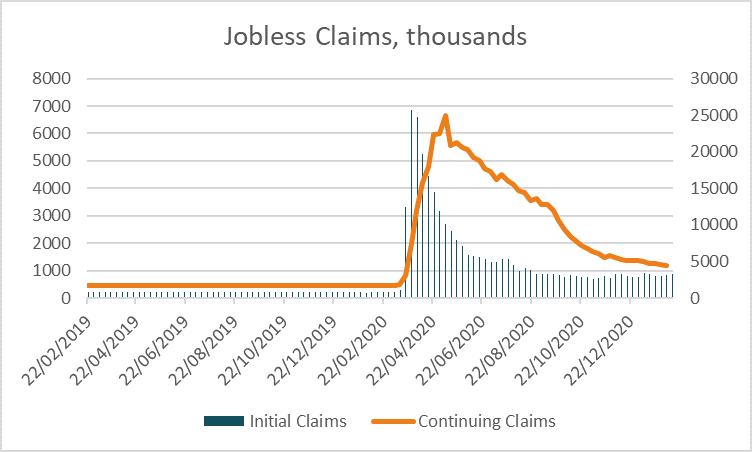 A rise in nominal and real yields are attributed with weighing on equities overnight, with both the nominal 10-year and inflation-protected yields rising +1.9 and +7.1 basis points respectively. The S&P500 pared declines of as much as -1.80% to finish -0.44% lower as declines in technology –0.45%, health care -0.65%, and communications -0.75% weighed given their heavy weightings. The Nasdaq Composite also fell, down -0.72% although also off its session lows, and the Russell 2000 fell -1.26%. Despite the rise in rates, the U.S. dollar index dropped -0.44% and the VIX edged +2.74% higher to 22.09.
European equities were also lower as yields rose and a batch of earnings disappointed. The Euro Stoxx 600 declined -0.80% with financials -1.41% and industrials -0.99% contribution the largest to the benchmarks declines. The index remains modestly below its all-time highs set in February 2020, having rallied +53% from the March 2020 lows. Expectations are for gains to be continued on higher forecast earnings, ample liquidity provided by the ECB, and positive progress on vaccines leading to an easing of restrictions. The Euro rose +0.46% against the USD in line with rising yields, with 10-year yields across Europe up between 2-6 basis points.
*Note: These prices are based on futures and/or CFD pricing and may therefore differ slightly from spot pricing.
The ASX looks set to follow Wall Street lower with ASX200 futures down -0.40% to 6,810. The ASX200 pared declines on Thursday to finish unchanged as gains in health care +2.05% and financials +0.27% offset declines in materials -0.18% and real estate -1.73%. The health care and pharmaceutical giant CSL's surge in profit helped to support in index given its relatively large weight. Shares rose +2.8% after reporting a first-half profit of US$1.8b, an increase of +44% from a year earlier, and announced a record interim dividend of 88c citing the performance of Seqirus, the companies flu vaccination segment.
The Australian Dollar rose +0.27% on USD weakness and continued gains in employment. For the month of January 29.1k jobs were added, in line with estimates for 30k and down from 50k previously. The unemployment rate edged slightly lower, down to 6.4% vs 6.6% previously and forecasts of 6.5%. A surprise slump in hours worked of -4.9% was seen as temporary with more than usual workers taking leave in January. Underemployment and underutilisation, which also includes those working but want to work more, continue to point to slack in the labour market although the figures are now back to pre-pandemic levels but above levels seen prior to and after the 2009 financial crisis.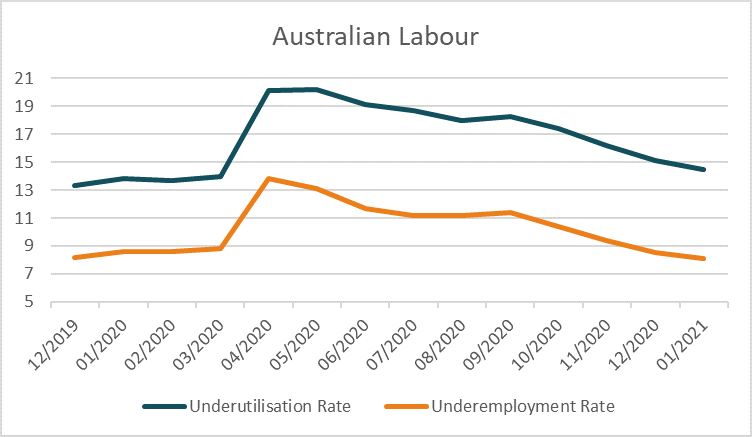 In commodities, oil prices finished lower with both WTI and Brent crude down -1.70% and -1.41% respectively. Iron ore prices jumped nearly +5% to US$169 following the conclusion of a weeklong break Chinese Lunar Year, aluminium gained +1.37% while copper and nickel were down -0.18% and -0.29% respectively. Gold was little changed around US$1,776.66 and silver weakened -1.18% to US$27.06 and Bitcoin edged -0.40% lower to US$52,193.
Economic data:
• Australian Manufacturing & Services PMI (MoM Feb) 09:00
• Japan Inflation (YoY Jan) 10:30
• Australian Retail Sales (MoM Jan) 11:30
• U.K. Retail Sales (MoM Jan) 18:00
• E.Z. Composite PMI (MoM Feb) 20:00
• U.K. Composite PMI (MoM Feb) 20:30
• U.S. Manufacturing PMI (MoM Feb) 01:45
This article was written by James Woods, Investment Accounts Manager, Rivkin Securities Pty Ltd. Enquiries can be made via [email protected] or by phoning +612 8302 3632.
We are glad you liked it
For your convenience, this will appear under your Saved articles in the top menu.