Morning Market Wrap: U.S. equities edge lower with yields ahead of CPI, ASX to open flat
10 Jun 2021
Equities edged lower on Wednesday with Treasury yields ahead of Thursdays closely watched U.S. CPI report.
The S&P500 traded -0.18% lower at 4,219.55 as declines in financials -1.06%, industrials -1.03% and consumer staples -0.43% outweighed a +1.0% gain in health care. The Nasdaq Composite edged -0.09% lower, the Dow Jones fell -0.44% and the Russell 2000 finished -0.71%. Longer-term bond yields fell with the 10 and 30-year yields down -4.2 and -4.7 basis points respectively, with breakeven inflation rates also lower with the 5 and 10-year down -5.6 and -4.4 basis points lower. The U.S. dollar index edged +0.06% higher while the VIX rose +4.80% to 17.89.
With equities closing lower despite declines in bond yields suggests investors are likely taking some risk off the table ahead of Thursday's inflation report. Meanwhile, the decline in breakeven inflation sets a high bar for any upside surprise in Thursday's CPI data to shake the market's recent calming of inflation concerns evident by declining breakeven inflation rates.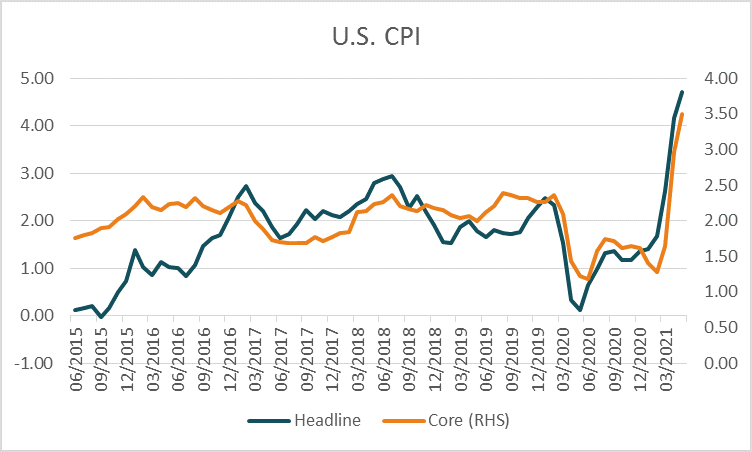 European equities edged to new all-time highs ahead of this week's Thursday's ECB policy meeting with no changes expected to the central bank's current accommodative policy. The Euro Stoxx 600 edged +0.09% higher, boosted by health care +2.04% offsetting declines in financials -0.89% and materials -0.74%. The CAC40 rose +0.19%, Spain's IBEX35 edged +0.03% higher while the DAX30 and FTSE100 weakened -0.38% and -0.20% respectively. 10-year government bond yields were broadly lower across the region ranging from -4.7 basis points in Sweden to -2.0 in Germany. The Euro rose +0.06% to 1.2180 while the Pound weakened -0.28% to 1.4118 after the European Union said it could impose tariffs on the U.K. if it fails to implement the full part of the Brexit agreement relating to Northern Ireland.
*Note: These prices are based on futures and/or CFD pricing and may therefore differ slightly from spot pricing.
The ASX looks set for a relatively flat open with ASX200 futures down just -0.04% to 7,272. The index reversed initial gains on Wednesday to close -0.31% lower as financials -0.50% and consumer staples -1.44% weighed. Brickworks was the standout performer rising +11.32% after the building materials maker said it expects its joint venture industrial property units underlying EBIT to be between A$240-260m. The Australian dollar edged -0.14% lower to 0.7731 after a -5.2% decline in consumer confidence for June with the Westpac consumer sentiment index declining to 107.2 from 113.2 in May.
Oil prices edged lower overnight with both WTI and Brent crude down just -0.13% and -0.14% respectively to US$69.96 and US$72.12 a barrel. Iron ore futures in Singapore rose +2.04% on Wednesday and are trading +0.59% higher this morning at US$204.79. Spot gold weakened -0.23% to US$1,888.57 while silver rose +0.56% to US$27.77 and Bitcoin rallied +8.26% to US$36,408.39 after El Salvador become the first country to adopt Bitcoin as legal tender.
Economic data:
Australian Consumer Inflation Expectations (MoM Jun) 11:00
Chinese New Yuan Loans (MoM May) 18:00
ECB Rate Decision 21:45
U.S. Core Inflation (YoY May) 22:30
U.S. Initial Jobless Claims (June 5th) 22:30
This article was written by James Woods, Portfolio Manager, Rivkin Securities Pty Ltd. Enquiries can be made via [email protected] or by phoning +612 8302 3632.
We are glad you liked it
For your convenience, this will appear under your Saved articles in the top menu.