Morning Market Wrap: U.S. equities mixed as Europe posts fresh records, ASX to edge higher
8 Jun 2021
U.S. equities started the week off mixed as yields edged higher after Friday's sharp declines ahead of key inflation data on Thursday.
The S&P500 traded in a narrow range before closing -0.08% lower as financials -0.63% and industrials -0.69% offset gains in communications +0.47% and health care +0.35%. The Nasdaq Composite rose +0.49% buoyed by a +38% jump in Biogen Inc. shares after its controversial Alzheimer's drug was approved by U.S. regulators. The Russell 2000 climbed +1.43%, the Dow Jones finished -0.36% and the VIX was unchanged at 16.42.
The U.S. dollar index edged -0.18% lower while Treasury yields rose ahead of Thursday's CPI report for May which is expected to show headline inflation rose +0.4% over the month and +4.7% over the year. Core inflation is forecast to rise +0.5% over the month and +3.5% over the year as base effects continue to distort the figures. Should the figures disappoint, it would add further weight to the Fed's accommodative policy stance following Friday's miss in non-farm payrolls, although the debate around inflation is likely to remain front and centre for the coming months. The yield on 2-year Treasuries rose +1 basis point, as did the 10 and 30-year up +1.5 and +1.6 basis points respectively. Breakeven inflation rates traded lower, with both the 5 and 10-year down -2.8 and -2.2 basis points respectively, signalling concerns around inflation have eased recently but remain elevated.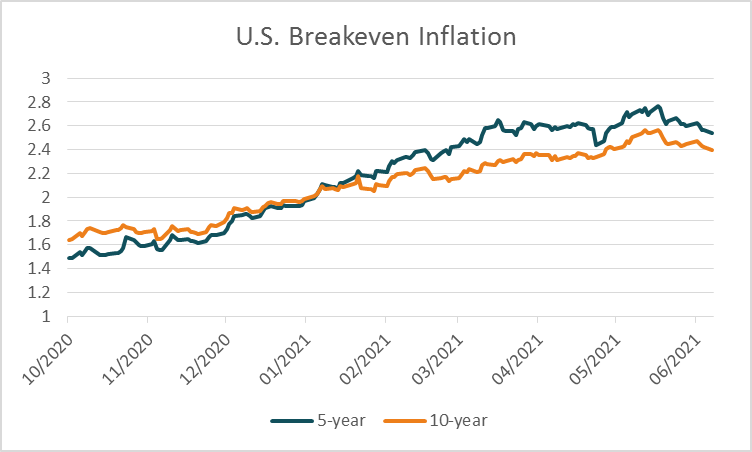 European equities were generally higher ahead of the ECB policy meeting on Thursday where expectations are for no changes to the current accommodative stance. The Euro Stoxx 600 rose +0.22% to a new all-time high, boosted by gains in health care +0.64% and consumer discretionary +0.69%. The CAC40 also gained +0.43%, as did Spain's IBEX35 +0.83%, Italy's FTSE MIB +0.99%, the FTSE100 +0.12% while the DAX30 edged -0.10% lower. 10-year yields across the region rose ranging from +0.4 basis points in Sweden to +4.1 in Italy. The Euro rose +0.19% to 1.2190, as did the Pound +0.18% to 1.4183.
*Note: These prices are based on futures and/or CFD pricing and may therefore differ slightly from spot pricing.
The ASX looks set for a relatively flat open this morning with ASX200 futures up +0.07% to 7,286. The index dipped -0.18% on Monday as declines in financials -1.07% and consumer discretionary -0.89% outweighed a +2.80% gain for technology shares. Altium Ltd. was the top performer, soaring nearly 40% after rejecting an unsolicited takeover offer from Autodesk Inc. which valued the company at nearly A$4 billion. SkyCity Entertainment was the worst performer, down -6.47% after the Australia regulator AUSTRAC said it was investigating breaches of anti-money laundering at its Adelaide casino. The regulator is also investigating potential breaches at Crown Resorts Perth casino as well as National Australia Bank Ltd. Crown shares fell -1.50% and NAB closed -3.16% lower.
Commodity prices weakened overnight with WTI and Brent crude both -0.56% and -0.58% lower at US$69.23 and US$71.47 a barrel. Iron ore futures in Singapore declined -2.57% on Monday to US$193.80 with base metals copper, aluminium, nick, and zinc also lower. Spot gold rose +0.40% to US$1,899.21 thanks to a weaker dollar offsetting a rise in real yields, with spot silver also +0.35% higher at US$27.89 while Bitcoin fell -4.23% on Monday to US$34,457.75.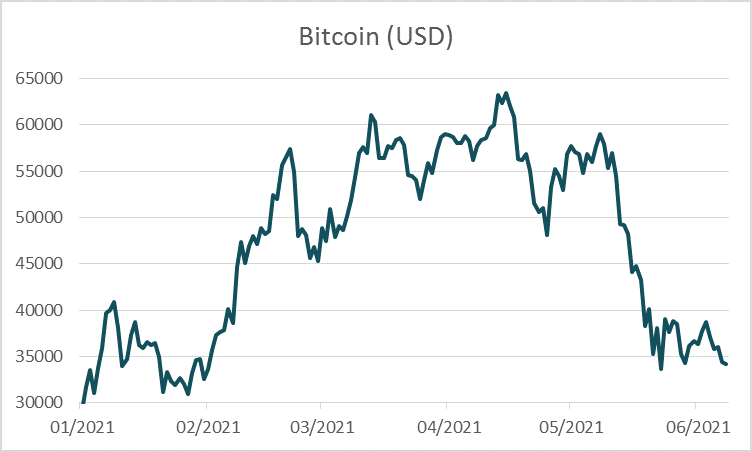 Economic data:
Japanese GDP (QoQ Q1) 09:50
Eurozone GDP (QoQ Q1) 19:00
Eurozone Economic Sentiment (MoM Jun) 19:00
U.S. Balance of Trade (MoM Apr) 22:30
This article was written by James Woods, Portfolio Manager, Rivkin Securities Pty Ltd. Enquiries can be made via [email protected] or by phoning +612 8302 3632.
We are glad you liked it
For your convenience, this will appear under your Saved articles in the top menu.