Morning Market Wrap: U.S. equities weaken with yields on Powell inflation comments, ASX to open higher
25 Oct 2021
U.S. equities edged lower on Friday with technology underperforming and yields retreating after comments from Fed Chair Jerome Powell on inflation hinted the Fed may be willing to act sooner rather than later to curb price increases.
Speaking on Friday, Jerome Powell said global supply-chain constraints and shortages that have led to elevated inflation "are likely to last longer than previously expected, likely well into next year," while adding that "it is still the most likely case" that as those constraints ease. Yields reacted by trading lower with investors likely taking these comments that the Fed would be willing to bring forward rate hikes if inflation pressures persist, preventing inflation from getting ahead of the Fed. The 2-year yield was unchanged at +0.455%, while the 10 and 30-year yields declined -6.9 and -7.9 basis points respectively to 1.634% and 2.070%. The U.S. dollar index weakened -0.14% to 93.64 with breakeven inflation rates edging lower with the 5 and 10-year rates down -0.9 and -0.6 basis points to 2.909% and 2.642%. Elsewhere, the preliminary Markit Manufacturing PMI for October was weaker than expected, declining to 59.2 from 60.7 previously missing estimates of 60.3.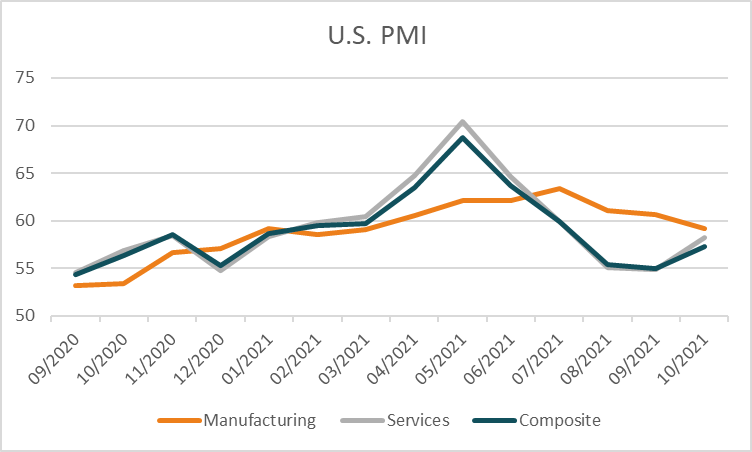 The S&P500 edged -0.11% lower on Friday, trimming its weekly gain to 1.64% with communications -2.28% and technology -0.33% offsetting a +1.32% gains for financials. The Dow Jones rose +0.21% to a record high boosted by strong quarterly earnings from American Express as people began to travel, dine out and spend on entertainment. Technology underperformed with the Nasdaq Composite down -0.82%, the Russell 2000 finished -0.21% lower and the VIX rose +2.8% to 15.43. In addition to one of the busiest weeks for earnings this reporting season, there are also several key data points released with consumer confidence overnight on Tuesday, followed by durable goods orders on Wednesday, advanced reading of Q3 GDP on Thursday and PCE inflation for September on Friday forecast to show core prices rose +0.2% month-on-month and headline prices rose +0.3% in September.
European equities were lifted by positive earnings despite mixed PMI data on Friday with sentiment also lifted by news Chinese property developer Evergrande had unexpectedly made an interest payment avoiding a formal default. The Euro Stoxx 600 rose +0.50% lifted by technology +1.33%, industrials +0.68% and consumer staples +0.71%. France's CAC outperformed rising +0.71% boosted by cosmetics manufacturer L'Oreal which rose +5.0% which beat analyst sales forecasts. U.K. retail sales for September disappointed on Friday, declining -1.3% year-on-year vs -0.4% forecast. The flash reading of Eurozone composite PMI for October also missed estimates declining to 54.3 from 56.2 and missing estimates of 55.2 while in the U.K. composite PMI unexpectedly rose to 56.8 from 54.9 previously and estimates of a decline to 54. The Pound declined -0.28% to 1.3755 and the Euro rose +0.17% to 1.1643.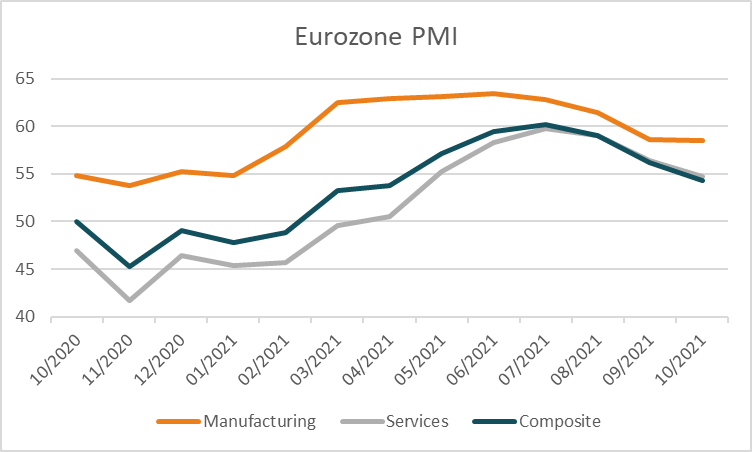 *Note: These prices are based on futures and/or CFD pricing and may therefore differ slightly from spot pricing.
The ASX looks set to start the week on a positive note with ASX200 futures up +30 points or +0.41% to 7,416. The index was unchanged on Friday, finishing the week +0.73% higher with real estate +2.75% and financials +2.01% outperforming while energy -4.31% and materials -1.39% lagged. MQG added +5% for the week after it emerged as a big winner from the boom in M&A with transactions running at a record pace.  Ahead for this week, Wednesday will see the release of Q3 inflation figures forecast to rise +0.8% for the quarter and +3.1% for the year followed by preliminary retail sales for September on Friday.
Oil prices closed higher on Friday with both WTI and Brent crude up +1.53% and +1.09% taking their weekly gains to +2.35% and +0.79% respectively at US$83.76 and US$85.53 a barrel. Chinese thermal coal slumped -21.83% for the week, with natural gas contracts for delivery in Europe falling -6.74% for the week. Iron ore futures in Singapore rose +1.75% on Friday and are trading +1.22% firmer this morning at US$119.95. Gold gained +0.55% to US$1,792 and silver rose +0.69% to US$24.32 while Bitcoin retreated from record highs to trade at US$60,652 having closed at US$65,996 on Wednesday.
Economic data:
German Ifo Business Climate (MoM Oct) 19:00
Chicago Fed National Activity Index (MoM Sep) 23:30
This article was written by James Woods, Portfolio Manager, Rivkin Securities Pty Ltd. Enquiries can be made via [email protected] or by phoning +612 8302 3632.
We are glad you liked it
For your convenience, this will appear under your Saved articles in the top menu.