Morning Market Wrap: Wall Street rises on stimulus hopes, ASX to open flat
12 Jan 2021
U.S. equities posted new all-time highs as sentiment continued to be buoyed by prospects of increased stimulus while a slim majority in the Senate for the Democrats would likely keep policies moderate.
The S&P500 gained for the fourth straight day, up +0.55% on Friday and +1.83% for the week led by energy +9.31% and materials +5.68%. The Nasdaq Composite also gained +1.03% and up +2.43% for the week, while the small-cap Russell 2000 surged +5.91%. The VIX declined for the fourth straight session, down -3.62% to 21.56 and the U.S. dollar index advanced +0.30%. European equities benefited from the risk-on sentiment by Wall Street with European equities broadly higher on Friday and for the week. On Friday the Euro Stoxx 600 gained +0.66% and posted a weekly gain of +3.04%, over the week the DAX30 also gained +2.41%, as did the CAC40 +2.80% and FTSE100 +6.39% as the Pound weakened -0.76%.
The U.S. labour market saw a surprise decrease in jobs for December, the first decline in eight months as rising COVID-19 cases weighed on leisure and hospitality. Non-farm payrolls declined 140,000 vs estimates for a 50,000 gain while the unemployment rate was unchanged at 6.7 vs forecasts for an increase to 6.8%. The chart below shows the percentage of the long-term unemployed of the total unemployed, those without a job for over 27 weeks which remains elevated at the highest levels since 2014. The longer people remain unemployment the more difficult it becomes to find work, earn higher wages and develop skills, this is something the Fed will be monitoring closely with its dual mandate. Still, the yield curve steepened with investors looking through the negative data, with expectations of fiscal stimulus to help stimulate jobs with Joe Biden suggesting a potential economic package totalling trillions of dollars with details to be released on Thursday. The 2-year yield was unchanged while the 10-year rose +3.6 basis points to 1.12%.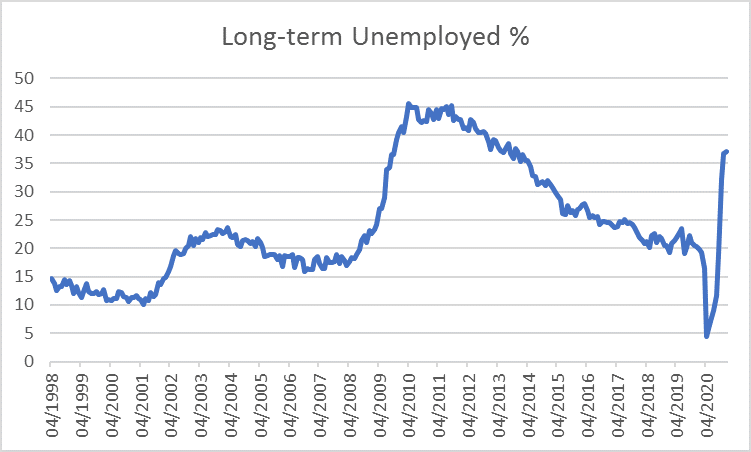 *Note: These prices are based on futures and/or CFD pricing and may therefore differ slightly from spot pricing.
Despite the positive sentiment from U.S. and European markets on Friday the ASX looks set for a muted start to trading with ASX 200 futures up just +0.11% at 6,704. The ASX200 climbed +0.68% on Friday to 6,757.87, gaining +2.59% over the week to reach a 10-month high. Sentiment was buoyed following gains in the U.S. where control of the House, Senate and Presidency has raised expectations of increased stimulus. Financials, which accounts for nearly 30% of the index weight, boosted the market with the sector up +1.07% on Friday with CBA up +1.24%, as was WBC +1.45%, NAB +1.35% and ANZ +0.85%.
Over the week energy and materials were the top-performing sectors, up +7.83% and 6.59%, boosted by firmer commodity prices on bets of a reflationary trade. With oil prices high following actions by Saudi Arabia to reduce output, Woodside Petroleum gained +9.10% for the week, as did Oil Search +15.09%, Santos +11.32% and Beach Energy +6.09%. With base metals generally higher and iron ore up +3.20% for the week at US$168 based on futures in Singapore, BHP climbed +9.99%, as did RIO +8.94% and FMG +8.15%.
Ahead for the week investors will focus on Chinese inflation for December on Monday at 12:30. U.S. inflation data for December out 00:30 AEDT on Thursday followed by Chinese new yuan loans at 19:00 and ECB policy meeting minutes at 23:30. Friday evening will see U.K. GDP year-on-year for November at 18:00 AEDT followed by U.S. retail sales for December at 00:30 AEDT Saturday and the Michigan consumer sentiment preliminary for January.
Economic data:
Australian Retail Sales (MoM Nov) 11:30
Chinese Inflation (YoY Dec) 12:30
ECB President Lagarde Speech 01:40
This article was written by James Woods, Portfolio Manager, Rivkin Securities Pty Ltd. Enquiries can be made via [email protected] or by phoning +612 8302 3632.
We are glad you liked it
For your convenience, this will appear under your Saved articles in the top menu.