This article explores the relationship between dividends and growth when investing.
With the ASX200 sitting just below record highs, interest rates at all-time lows and some of the largest dividend stars of the ASX200 beginning to reduce payouts, the average investor might be re-evaluating their portfolio composition and, perhaps, the reliance on income.
Australians have had a long-standing tendency to be overweight in income-based positions and while this started with the baby boomers in the 80's, more recent studies indicate this trend has been passed on with over 60% of 18 to 45 year-olds still seeking consistent income and guaranteed returns when investing. The introduction of dividend imputation in 1987 sparked the trend which only grew in popularity as proceeding governments continued to make supportive adjustments to tax policies.
As a result, the average payout ratio among public Australian companies for the past 100 years sat at 65%, however that average has grown since the GFC. This year alone, ASX200 listed companies are set to pay approximately $82 billion in dividends, representing a 77% payout ratio and a 4.14% dividend yield. Most notably, this is true among large resource companies and banks with many currently holding payout ratios closer to 90%.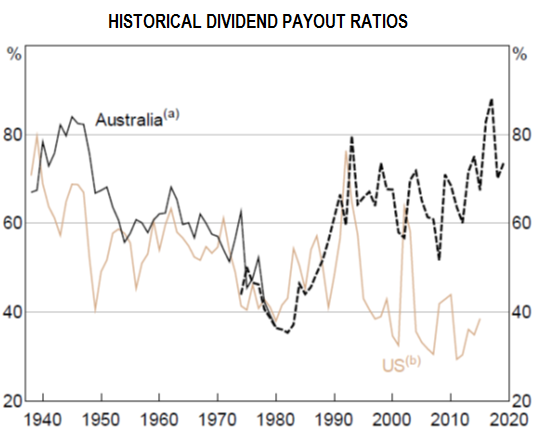 Political landscape favoured income but is it sustainable?
This year's win by the coalition party reinvigorated Australia's addiction to dividends as the status quo was maintained in regard to franking policies. Despite the market rally that proceeded, a rising number of finance professionals feel a win by Labor may have positively influenced investors by forcing them to reassess their overreliance on dividends.
Hamilton Wealth Management CEO, Will Hamilton, believes "investors missed a wake-up call" when referring to the 2019 election and that, "buying stocks in the pure pursuit of dividend yield is a complacent style of investing and a win by Labour may have encouraged diversification and better investing strategies".
BlackRock asset manager, Madeleine Beaumont, believes the move towards higher-yielding stocks is a "bubble" and that while some companies might provide a strong yield in the short-term, the question needs to be asked how can these companies be expected to grow with such high payout ratios?
With projected dividend growth for the ASX200 being negative for the first time since the GFC and dividend cover from equity income providers reducing from 1.8x to 1.3x, in the same period, continued earnings downgrades will undoubtedly result in further dividend cuts.
This risk has more recently become prevalent among larger lenders as a result of a 'troublesome year' and while many financials show signs of financial stability, PM Capital portfolio manager, Uday Cheruvu, believes the payout ratio held by the big four, as well as the 12 to 14.5 times earnings valuations, do not accurately reflect the risks banks face as a result of reducing net interest margins and a record low cash rate.

The past year alone provides a direct example of the potential impact lower interest rates can have on profit margins for companies, such as banks. The key takeaway to consider is, it only took six months of cash rate reductions to impact profit margins enough to cut dividends and only during two of the six months did we witness a cash rate below 1%. With markets pricing in a 64% chance of further rate cuts by February, APRA implementing new capital requirements in January and the potential for further remediation costs, it wouldn't be implausible to think banks may continue to reduce payout ratios.
The Alternative
While a well-balanced portfolio will have a component of both income and growth among other things, it is important to remember that today's income stock might have been yesterday's growth stock.
Katana Fund manager, Romano Sala Tenna, said "if you can find a genuine growth story it will outdo a company throwing off cash any day of the week", however such stories are rare to find in the ASX20 where industrials and banks dominate.
Growth stocks typically shows signs of above-average earnings, grow faster than the overall economy, hold higher price-to-earnings ratios and generally prioritize reinvestment over dividends. Another characteristic of a growth stock, that often gains the most attention, is the tendency to experience more volatile price movements and react faster to broader market swings, whether that be upwards or downwards.
If we look at some of best performing stocks of 2019 however, we find a list almost completely occupied by growth stocks. Furthermore, when assessing the total capital gains achieved, it's easy to see they provide substantially more value than the largest dividend paying stocks on the ASX200.
Of course, in hindsight one can make such observations without consequence which is why a review of Rivkin's ASX Value strategy is required.
Rivkin utilizes a systematic style of investing where human error can be minimised, distracting noise can be disregarded and a fixed set of fundamental requirements can be maintained to ensure the accuracy and consistency of any given strategy.
The ASX Value Strategy looks to identify stocks that have strong growth potential coupled with an ability to sustain stable earnings. Internal components of the income statement and balance sheet are also evaluated to assess the quality and efficiency of the company's earnings and provide an overall Rivkin 'value score'. The strategy uses the above indicators to identify the top 10 stocks within the ASX200 and then automatically update each month to allow for the systematic adjustment to market conditions or individual company events.
In comparison to the ASX200, the Rivkin Value strategy has outperformed significantly registering a year-to-date return of 41.53%, and currently holds some of the ASX200's most common names.
One such name, that accurately reflects the calibre of stocks selected within the Value Strategy, is Altium Limited (ALU), which has produced a 126% return since being introduced to the portfolio in February 2018.
ALU is one of the longest standing companies held within the Rivkin Value Strategy and has typical growth characteristics such as a low dividend yield of 1.03%, a P/E ratio of 57 and somewhat volatile price movements with a 52-week price range of $19.73 to $38.49. While some investors may find volatility daunting, a closer look under the hood paints a clearer picture of the quality of ALU.
Looking back at its full year results, posted in August, we find that ALU increased revenue by 23% to $US171.8 million, achieved record profits margins, increased net profit after tax (NPAT) by 41% to $US52.9 million, as well as EPS by 41% to AUD$0.41. The numbers reflect the growth of the business across all regions it services and the efficient use of earnings to sustain that growth.
Our existing members who are not familiar with our Value Strategy can learn more about similar companies and Strategies and the advantages of Rivkin's systematic approach through the following link.
Or you can access Value Strategy through Mainstream Separetly Managed Accounts.
This article was written by Thomas Brunton – Investment Analyst, Rivkin Securities Pty Ltd. Enquiries can be made via [email protected] or by phoning +612 8302 3633.
Rivkin does not ever provide financial advice. Please consider your own circumstances before purchasing any of our products or acting on our general advice, for any Rivkin product or recommendation.
We are glad you liked it
For your convenience, this will appear under your Saved articles in the top menu.