Advanced Analysis
Australia
The recent decline in shares – things to remember
14 May 2020
The Australian and US share markets have fallen very sharply over the past 2-3 weeks, so we wanted to update investors on our views on the current market environment. There have been several major developments of late which have resulted in a sharp deterioration in the economic outlook and investor sentiment.
We imagine that most investors would be aware of the first, being the spread of the Coronavirus outside of China, where the virus originated. Over the past two weeks, we have seen severe outbreaks in South Korea, Iran, and Italy. More so, additional European countries such as France, Germany, and the UK appear not far behind. In response to the spread, many European governments are implementing extremely stringent measures to reduce people mobility, which will inevitably lead to a major contraction in economic activity. As an example, the Italian government has recently ordered the closure of all shops, excluding groceries and pharmacies. In addition to the economic impact, such measures are only going to further erode investor morale and confidence.
In addition to the Coronavirus, over the course of the weekend, the oil market experienced a significant shock with the breakdown in relationships between Russia and Saudi Arabia. As a result, any agreement as it relates to curbing production appears dead in the water. This has resulted in a significant price shock, with the crude oil price dropping around 30% over the course of the weekend alone. While some may view this a positive, the reality is that a higher oil price leads to inflationary pressures, which is a key determinant of economic growth. If input prices (of which oil is a large one) are collapsing, and market participants expect them to decline even further, they are likely to hold off on making capital investment.
Returning to the coronavirus, while at the individual level, the virus may not appear to be overly concerning, it is the amount of cases presenting and thus the stress on the overall health care system that is. And this all comes down to the response of governments. While countries such as Singapore and South Korea acted rather swiftly, the United States on the other hand appears woefully unprepared. It is slightly ironic that a nationalistic administration, hellbent on distancing itself from the globalisation of the world economy, is now facing its biggest challenge from abroad and bungling the policy response. The U.S. healthcare system is a mess with over 30 million Americans uninsured and right now it is very hard to get tested for coronavirus in the U.S. The only major policy response we have seen was an interest rate cut by the Federal Reserve, instead of more pragmatic actions such as increased testing facilities and limitations on large gatherings.
As scary as a global pandemic sounds, the best news to be gleaned in recent weeks is the incredible handling of the outbreak seen in China, South Korea, and Singapore. While quarantines that China have implemented can't reasonably be expected to be seen in countries like the U.S., China has shown that the world doesn't need to wait for a vaccine to get on top of the outbreak. How western governments respond will be key to seeing infections start to wane, which will be the beginning of a return to normality.
What started as a health concern is quickly escalating into a real-world economic slow-down. The combination of global panic and plummeting oil prices means a global recession is becoming more likely; however, we remain of the view that any recession will be short-lived (as long as governments in the U.S., Italy etc get a handle on the situation). Eventually life will return to normal, either as early as infections start to reduce, or a vaccine is released. And the oil price war between Russia and Saudi Arabia is very dangerous considering both economies' reliance on oil revenues, and this too will come to an end.
For those of us who still can remember the GFC as a fresh wound, remember that this is not another GFC. The GFC was a credit crunch, which meant that companies and banks no longer trusted each other as counterparties and no longer trusted doing business with each other. Companies were highly leveraged at the time and many companies were at risk of failure. This time around, there will be companies particularly exposed such as oil, travel, and tourism companies who may not have the balance sheet to withstand a hit to revenues. But most companies on the ASX are not at risk to fail and, if one can truly adopt a long-term view, are likely to be great investment opportunities at current levels.
As a reminder, both our Australian and Global Equity Funds, currently have a 20% allocation to a credit macro strategy, which is considerably less volatile than equities. More so, our portfolios have already begun building cash positions in response to the deteriorating momentum across equity markets.
Finally, we have included two charts that were recently released by AMP Capital. They are self-explanatory but should indicate that panicking, especially after the falls we have already seen, has never been the smart decision in the history of the stock market – what are the odds it will be this time around? One's long-term strategy should be the same during bull markets and bear markets, so this sell-off should be looked at no differently.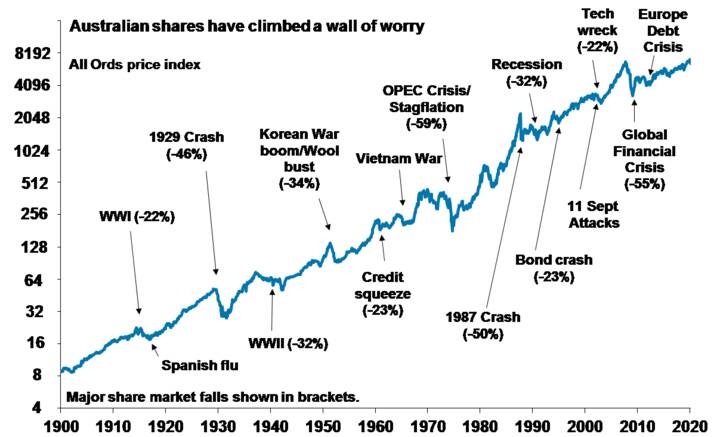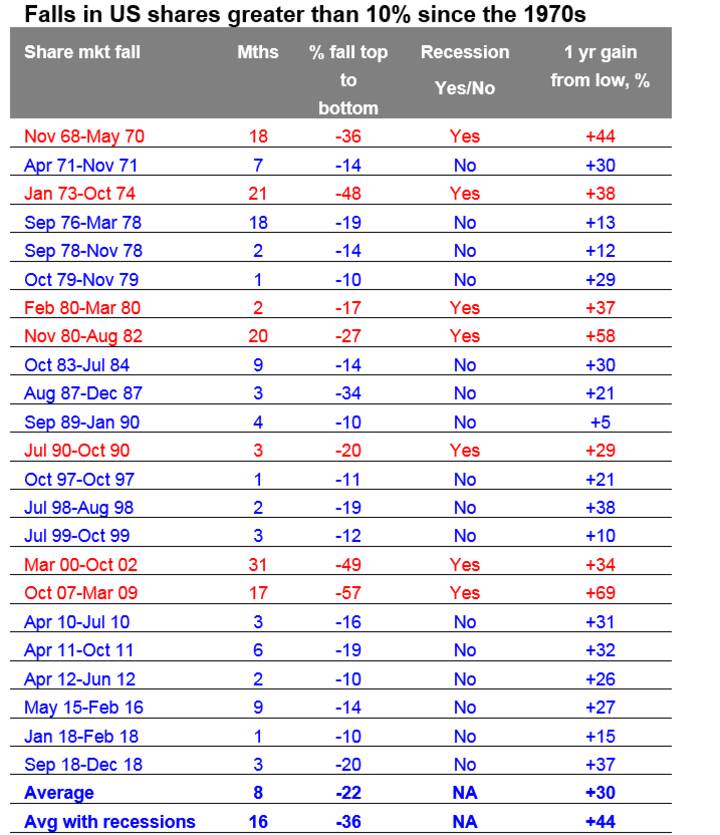 We are glad you liked it
For your convenience, this will appear under your Saved articles in the top menu.