KEY CONCEPTS
< Go back
FOXA – Fox Corp Class A
The Fox Corporation (FOXA) operates as a news, sports, and entertainment company in the United States. The company was incorporated in 2018 and is based in New York, New York. The Company produces and licenses content for cable television, satellite broadcast, telecommunications companies and online video distributors. It also manages broadcast studios, theatres, editing bays, sound stages and other production facilities. 
The company operates through three segments: Cable Network Programming, Television, and The Other, Corporate & Eliminations. The cable network programming segment produces and licenses news (global, business and sports) for distribution through cable television, satellite broadcast, telecom providers and online multi-channel video programming distributors. Its networks include FOX News, FOX Business, FS1 and FS2 (sports), FOX Sports Racing, FOX Soccer Plus, FOX Deportes (a Spanish-language sports channel) and Big Ten Network, a national video programming service. 
The Television segment produces, markets, acquires and distributes broadcast network programming. This segment owns and operates 29 broadcast television stations. Its networks include The FOX Network (sports programming and entertainment), MyNetworkTV (programming distribution service) Fox Alternative Entertainment, Bento Box, and Tubi. 
The Other, Corporate and Eliminations segment provides production and post-production services under the brand name of FOX Studios. It operates production facilities in Los Angeles, California, including 15 sound stages, 2 broadcast studios, theaters and screening rooms, editing bays, and television & film production facilities.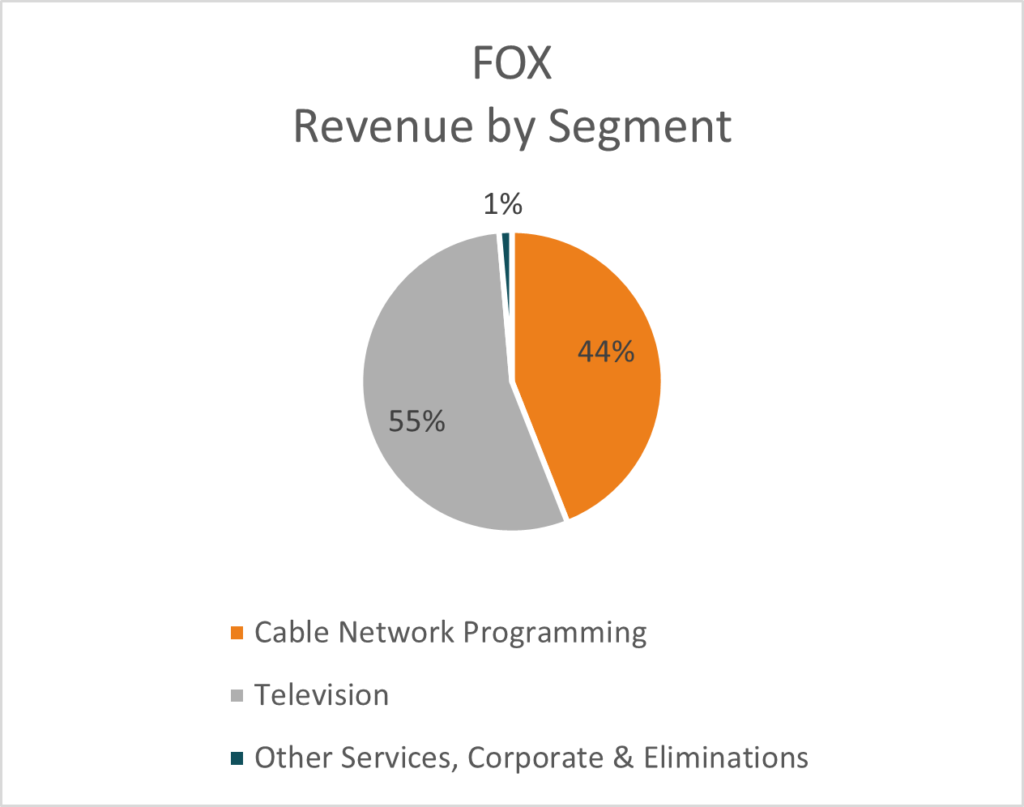 As at 30.06.2021
If you want to know more about FOXA, click here to review the article written by our investment team.