KEY CONCEPTS
< Go back
GD – General Dynamics Corporation
General Dynamics Corporation (GD) is an aerospace and defence company with a global presence. It was founded in 1899 and is headquartered in Reston, Virginia. It operates in more than 70 countries and has more than 90 global partners. It operates in 4 segments: Aerospace, Marine Systems, Combat Systems and Technologies.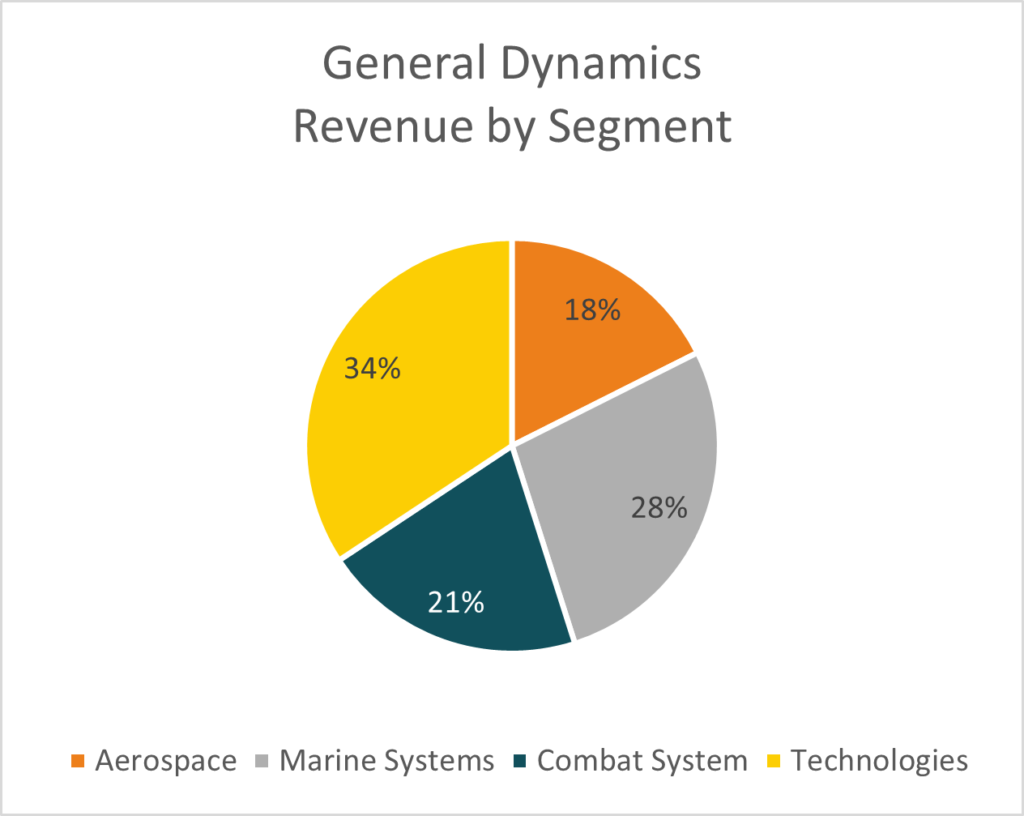 As at 07/04/2021 
The aerospace division (18%) caters to civilian customers, both individual and corporates. It manufactures jets and provides aircraft repair, support and completion services. This is further broken down into the Gulfstream and Jet Aviation business units, located in Savannah, Georgia. 
The marine systems segment (28%) caters to both private customers and the US Navy. For commercial customers, it manufactures cargo ships, tankers and containers. For the US Navy, it manufactures all marine vehicles ranging from jet powered electric boats to nuclear powered submarines. It also provides maintenance and modernization services. 
The combat systems segment (21%) manufactures land combat vehicles and weapons systems, ranging from ammunition, mobile bridge systems to armored tanks. It also provides modernization programs, engineering, support and sustainment services. It caters to the US government and its non-US partners. 
The technologies systems segment (34%) provides a large range of services, technologies and products. This includes intelligence reconnaissance, command-and-control systems, mission support services and others to the military, intelligence and federal civilian customers. It is further categorized into two business units, the Information Technology (GDIT) and Mission systems. GDIT provides large scale IT enterprise technologies for smooth network, data and information optimization. The mission systems segment manufactures combat proven GPS for the US Army.