Alexion Pharmaceutricals (ALXN) develops drugs for the treatment of autoimmune and cardiovascular diseases.
Key Statistics
52-Week Range
Avg. Daily Vol (3 Mo)
Market Value
Dividend Yield
Target Price
Consensus Rating
(5 strong buy – 1 strong sell)
Next Earnings Announcement
72.67 – 128.57
2,039,705
26,810.8
–
47.83
4.18
29/01/2021
Its main product Soliris, a monoclonal antibody, treats rare genetic blood disorders, paroxysmal nocturnal hemoglobinuria (PNH) characterised by the destruction of red blood cells, blood clots, impaired bone marrow function and organ damage affecting 1-1.5 per million people as is known as one of the worlds most expensive drugs, costing up to $500k per year. The second disorder is atypical hemolytic uremic syndrome causes too many blood clots to form, blocking regular flow to kidneys, which are unable to get of waste from the body and can lead to kidney failure over time. Soliris accounts for the vast majority of revenue, roughly 80% of all sales.
The second largest product by revenue is Strensiq which is an enzyme replacement therapy for patients with perinatal/infantile and juvenile-onset hypophosphatasia (HPP). HPP is a rare disorder characterised by abonormal develops of bones and teeth due to defective mineralisation, the process by which bones and teeth take up minerals such as calcium and phosphorus which are required for hardness and strength. Defective mineralisation can lead to premature tooth loss as well as soft bones that are prone to factures or deformity. Other revenue generating drugs include Ultomiris, which is also used for the treatment of PNH accounting for 7% of sales, and Kanuma, which treats lysosomal acid lipase deficiency (LAL-D) where lipids accumulate throughout the body, mostly in the liver and can result in organ failure.
ALXN exceeded both top and bottom line revenue driven by solid commercial execution in its core complement C5 franchise. Management increased both top and bottom line guidance for the financial year 2020 by $350m from $200m previously and increased EPS guidance by 10%. Management also provided longer-term guidance that exceeded expectations with revenue in 2025 ranging from $9-10b compared with $7.8-8.8b previously with operating margins expected to remain above 50% over the same period.
For the financial year ending December 2020 revenue is forecast to rise +19.5% to $5,963.8m and a further +9.8% in 2021 to $6,546.3m. Earnings per share is expected to rise +36.4% to $12.06 for 2020 followed by a +5.7% increase in 2021 to $12.76. The stock trades on forward P/E multiples of 10.2 and 9.6 for 2020 and 2021 respectively, a roughly 30% discount to peers which trade at 15.0 and 13.4 respectively.
The average target price of analysts covering the stock is $146.77 with 60% of analysts rating the stock as a buy, compared to 0% as a sell and 40% as a hold.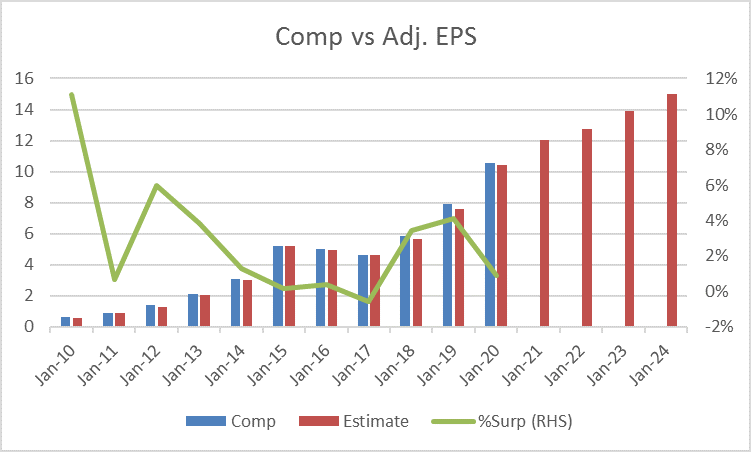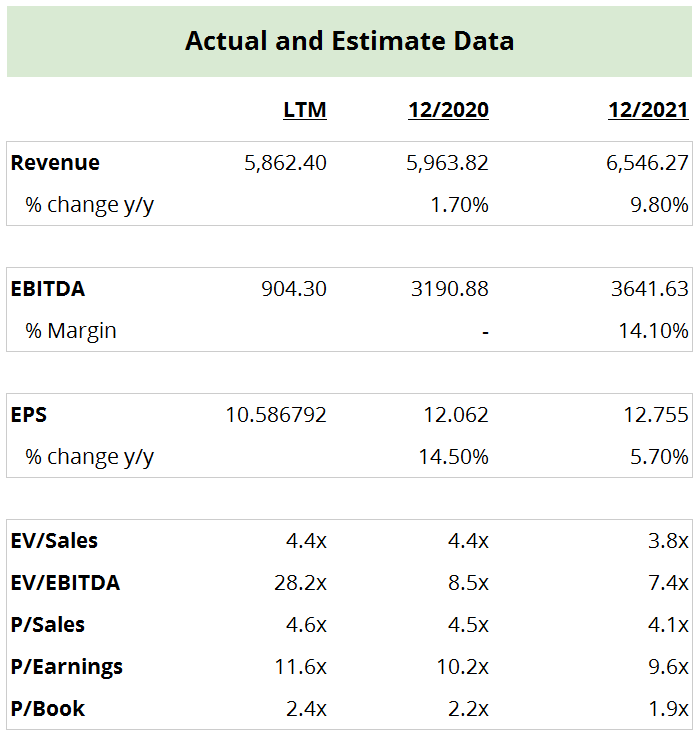 We are glad you liked it
For your convenience, this will appear under your Saved articles in the top menu.