Align Technology Inc. (ALGN) designs, manufactures and markets the Invisalign system for the treatment of misaligned teeth.
Key Statistics
52-Week Range
Avg. Daily Vol (3 Mo)
Market Value
Dividend Yield
Float %
Target Price
Consensus Rating
(5 strong buy – 1 strong sell)
Next Earnings Announcement
127.88 – 516.29
777,826
40,292.6
–
91.6%
447.00
3.82
21/01/2021
The Invisalign product uses a series of clear and removable appliances that move teeth to a desired position, replacing the traditional braces and sold to orthodontists and dentists globally. ALGN also manufactures and sells the iTero orthodontic scanner which is used by orthodontists, periodontists, oral surgeons and dentists to capture dental images and link them with patient records.
Align Technology operates two segments, the Clear Aligner being the Invisalign, and Scanners and Services being the iTero scanner. The Clear Aligner segment generates the bulk of sales, totalling 85% of revenue in 2019 while Scanners and Services accounted for 16%. Geographically the U.S. is the dominant market, accounting for 48% of revenue, with the company classifying the remaining geographies as International accounting for the 52% with ALGN increasingly focusing on increasing sales in Asia Pacific and Europe, Middle Eat and Africa.
While the shift away from traditional braces was already gaining traction, sales should benefit from safety dynamics as a result of the COVID pandemic. With an estimated total accessible market of 15m new orthodontic cases each year and ALGN totalling 11% of the market share there is significant room for growth with management noting significant investment in sales, marketing and manufacturing. Management has also guided 20-30% revenue growth over 3-5 years with EBIT margins between 25-30%.
Its products are sold through a direct sales force to orthodontists, dentists, periodontists and oral surgeons. The teenage market accounts for roughly three quarters of total new orthodontic cases each year with ALGN utilising sales and marketing programs to target the demographic.
For the year ending December 2020 revenue is expected to be flat, up just +0.3% to US$2,413m before increasing +34.4% in 2021 to US$3,243m. Earnings per share is forecast to decline -9.4% to US$4.558 in 2020 as the company invests significantly in expansion in international markets, although its artificial intelligence ability should help keep headcount and costs down in the longer-term. For 2021 earnings per share is forecast to rise +76.4% to US$8.07. Based on these estimates the stock trades on forward P/E multiples  of 111.7 and 63.3 respectively, premiums of 400% and 91% respectively to the peer group averages of 27.5 and 33.1.
The average target price of analysts covering the stock is $447 with 53% of analysts rating the stock as a buy, compared to 11% as a sell and 35% as a hold.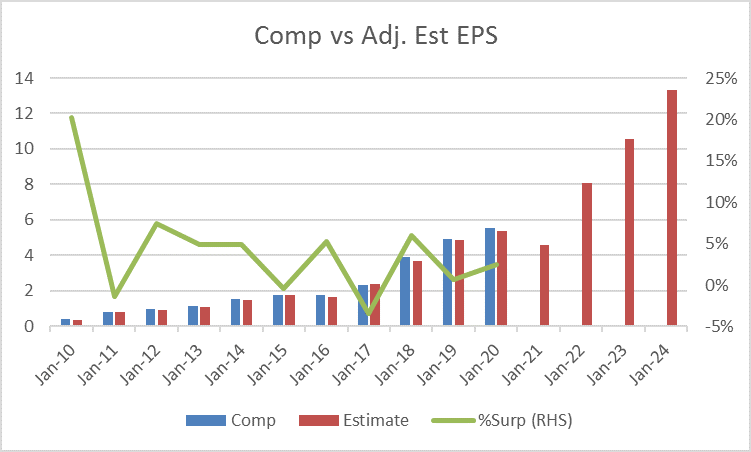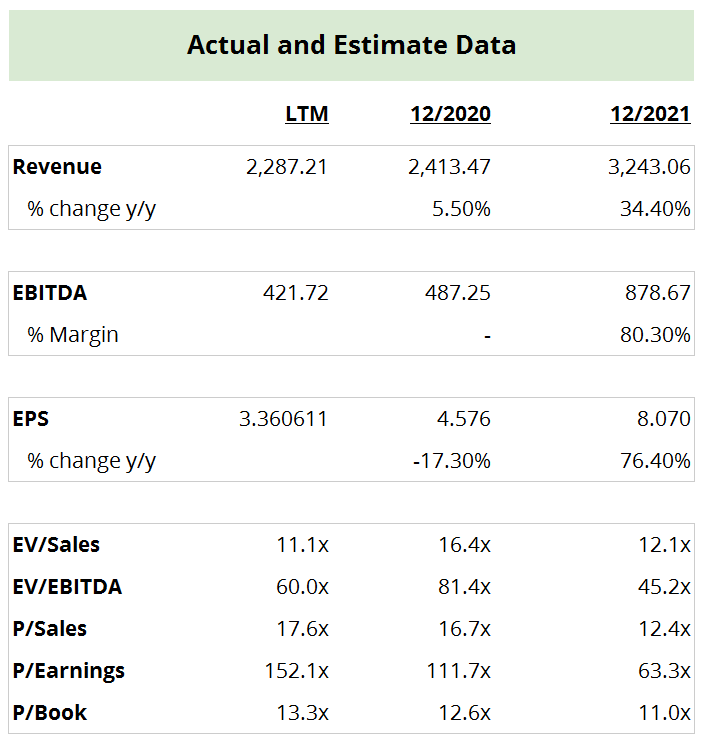 We are glad you liked it
For your convenience, this will appear under your Saved articles in the top menu.