FedEx Corp. delivers packages and freight to multiple countries and territories through an integrated global network.
Key Statistics
52-Week Range
Avg. Daily Vol (3 Mo)
Market Value
Dividend Yield
Float %
Target Price
Consensus Rating
(5 strong buy – 1 strong sell)
Next Earnings Announcement
422.22 – 1490.66
520,606
64,749.9
–
95,4%
1,446.71
4.29
10/02/2021
The company provides worldwide express delivery, ground small-parcel delivery, freight delivery, supply chain management, customs services, trade facilitation and electronic commerce solutions. FedEx Corp. is a holding company which operates through several subsidiaries including FedEx Express, FedEx Ground, FedEx Freight and FedEx Office. FedEx Express is the world's largest express transportation provider, operating in over 220 companies with 680 aircraft and 180k vehicles, responsible for 50% of revenue. FedEx Ground provides small package delivery in North America, accounting for 35% of revenue while FedEx Freight hauls larger shipments accounting for 10% of revenue. FedEx Office offer document related and business services to retail hubs for other FedEx units. The U.S. accounts for most of the revenue, with American totalling 70% of sales compared to 30% internationally.
The company has benefited from a surge in e-commerce demand due to the COVID-19 pandemic although has a delicate balance in managing the pressure from surge demand and keeping costs low along with higher operating costs from operating safe networks for employees and customers. The industry including competitors UPS and DHL also face structural challenges from Amazon. Investment analysts have turned bullish on the stock citing tailwinds from the full integration of TNT, which FedEx purchases in 2016, should lower FedEx's pickup and delivery costs while increasing market share in Europe. Additionally, the supply and demand imbalance created by the pandemic should provide a multi-year tailwind for pricing. The company is also likely to benefit from the distribution of any COVID-19 vaccines.
Revenue for the year ended May 2021 is forecast to rise +10.7% to $76,652.7m and a slightly slower pace of growth in 2022 to $80,375.4m. Adjusted earnings per share is forecast to rise +64.9% to $15.68 and a further +9.8% in 2022 to $17.22. The stock trades on forward P/E multiples of 17.6 and 16.2 in 2021 and 2021 vs an average of peers 18.4 and 16.6 respectively.
The average target price of analysts covering the stock is $1,446.71 with 67% of analysts rating the stock as a buy, compared to 4% as a sell and 29% as a hold.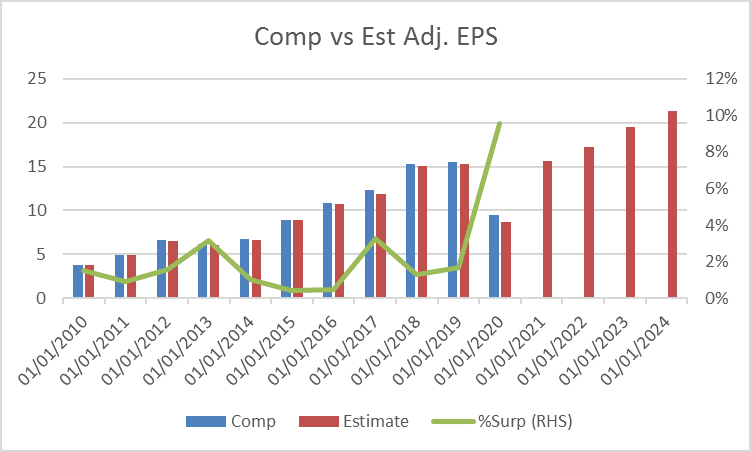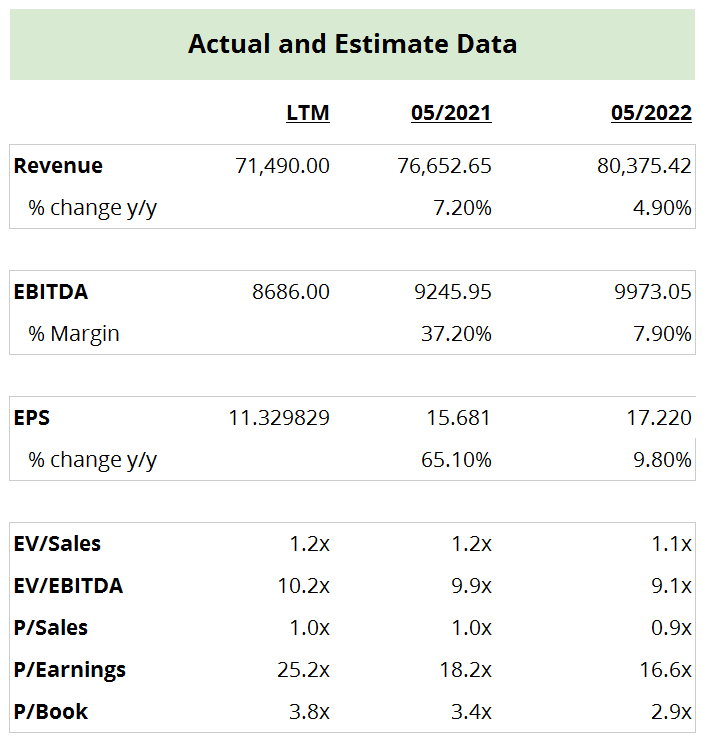 We are glad you liked it
For your convenience, this will appear under your Saved articles in the top menu.