KLA Corp. produces and distributers semiconductors, offering surface profilers, nanomechanical testers, chips and semiconductor assembly solutions.
Key Statistics
52-Week Range
Avg. Daily Vol (3 Mo)
Market Value
Dividend Yield
Float %

Target Price
Consensus Rating
(5 strong buy – 1 strong sell)
Next Earnings Announcement
108.76 – 251.70
1,134,181
38,452.80
1,4%
99,5%
231,35
3.80
04/02/2021
Additionally, it supplies process control and yield management systems for the semiconductor industry, which are used to achieve a level of consistency, economy and safety in the production process, inspecting reticles, and measuring microscopic layers. KLA is a dominant player in the market for equipment that inspects semiconductor photo masks and reticles.
KLA operates four segments, semiconductor process control, specialist semiconductor process, PCB, display and component inspection, and other. Semiconductor process control (SPC) offers the inspection, metrology and data analytics equipment and related services, accounting for 80% of revenue. The specialist semiconductor manufacturing develops and sells advanced vacuum deposition and etching process tools which are used in manufacturing in microelectromechanical systems (MEMS), radio frequency communication chips (RF) and power semiconductors for automotive and industrial applications, accounting for 5% of sales. The PCB, display and component inspection segment makes equipment to inspect, test and measure printed circuit boards, flat panel displays and integrated circuits, totalling 10% of sales. In the other segment, KLA researches products for the deposition of thin film coating of various materials on silicon.
Taiwan and China are the largest geographical market, accounting for 27% and 25% of revenue, followed by Korea 17%, Japan 12%, North America 11 and Europe & Israel 5%. Key clients including Taiwan Semiconductor Manufacturing Company and Samsung Electronic Co. with each accounting for over 10% of revenue. The company remains well positioned post-virus recovery with lower break evens and wider adoption of next-generation chip designs bode well for KLA's cutting-edge inspection tools. KLA should also benefit over the medium and long term due to strong demand for advanced chips used in driverless cars, 5G and artificial intelligence.
For the financial year ending June 2021 revenue is forecast to rise +8.6% to US$6,305.8m followed by a further +4.5% in 2022 to US$6,589.6. Adjusted earnings per share is estimated to increase +18% in 2021 to US$12.21 and a further +5.7% in 2022 to US$12.90. Based on these estimates the stock trades on forward P/E multiples of 20.9 and 19.8 for 2021 and 2022 respectively, a 14% and 7% discount to the peer group averages of 24.2 and 21.3.
The average target price of analysts covering the stock is $231.35 with 45% of analysts rating the stock as a buy, compared to 0% as a sell and 55% as a hold.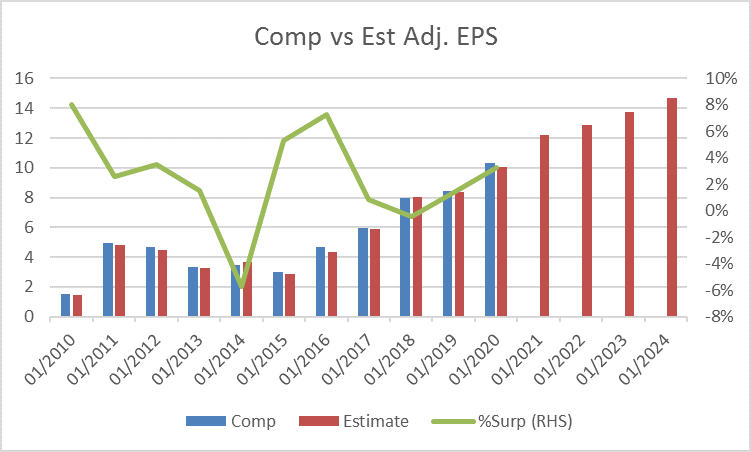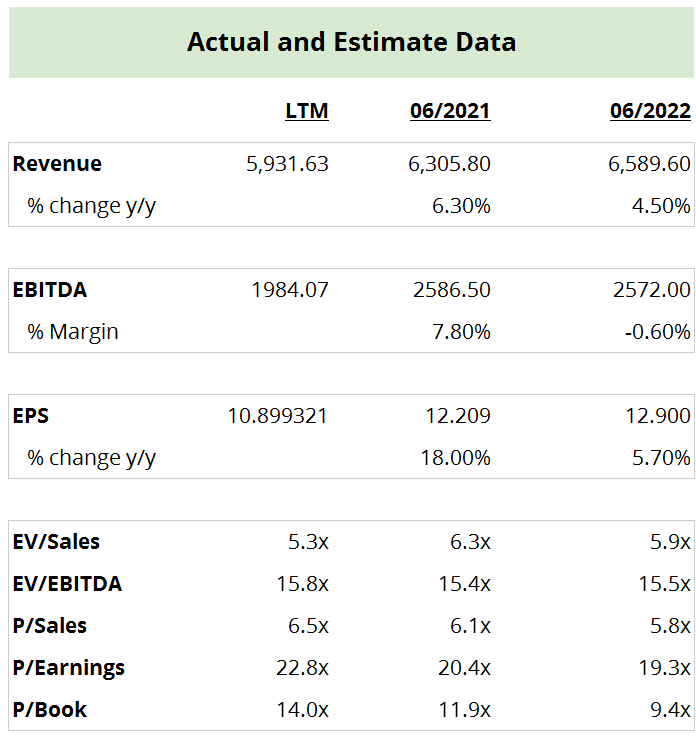 We are glad you liked it
For your convenience, this will appear under your Saved articles in the top menu.