Target Corporation operates the 2nd largest general merchandise discount stores in the U.S. behind rival Wal-Mart.
Key Statistics
52-Week Range
Avg. Daily Vol (3 Mo)
Market Value (m)
Dividend Yield
Float %
Target Price
Consensus Rating
(5 strong buy – 1 strong sell)
Next Earnings Announcement
88.88-181.17
3,532,795
88,401.5
1.5%
99.7%
187.90
4.35
03/03/2021
Target Corporation operates the 2nd largest general merchandise discount stores in the U.S. behind rival Wal-Mart. The Company focuses on merchandising operations which includes general merchandise and food discount stores and a fully integrated online business at Target.com. Target also offers credit to qualified applicants through its branded proprietary credit cards.
While Target operates throughout the U.S., the five states of California, Texas, Florida, Illinois and New York account for roughly 40% of stores and a significant portfolio of revenue. Still largely a bricks and mortar company, 85% of revenue is generated in stores, with the remainder by mobile and online sales. Since 2017 Target has invested in remodelling 700 stores with plans to remodel an additional 300 by the end of 2020, which according to the company in March 2020 boosted average store sales by 2-4%.
As part of a multiyear strategy, it is also targeting further urban areas and college campuses with smaller stores as well as its Drive up and Order Pickup services, where for Drive Up customers order through mobile or online and the items are delivered safely to their car while Order Pickup is ordered ahead of time and picked up in-store. Additional investments are also being made in its supply chain, including automation by robotics to help replenish inventory and opening new warehouses near high-volume areas. The smaller-format stores should help to capture market share from grocers and drug stores, with products customised to the local area, including fresh food and produce.
TGT has benefited from demand for essential items during the pandemic, including through the Drive-Up app which saw sales increase 500%. While online is currently a small portion of sales it is a competitive environment in which Target is focusing. By utilising stores as fulfilment centres, TGT is able to focus on keeping costs in check and reduce transit times while the acquisition of Shipt, the same day delivery service company also enhances the online offering.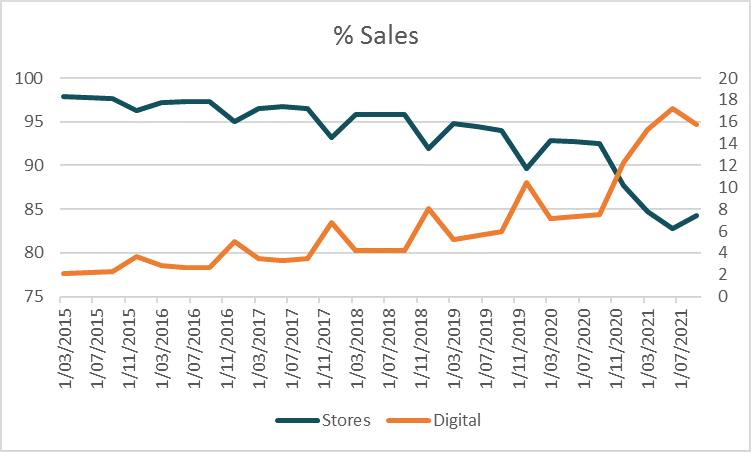 A strong brand, investment in customer loyalty programs and product differentiation should protect Target from the likes of Amazon.com. Loyalty programs, Target Circle, as well as credit offerings through Target's RedCard should help to keep customers engaged and loyal.
For the year ending January 31st 2021, revenue is expected to grow +15.8% to US$90,448.5m before levelling our in 2022, decreasing slightly by -1.8% to US$88,843m. Adjusted earnings per share is expected to rise +38.5% to US$8.85 before edging -3.7% lower in 2022 to US$8.52. Based on these estimates, the stock trades on forward P/E multiples of 19.9 and 20.7 respectively, roughly -30% and -14% discounts to the peer group averages of 28.5 and 24.1.
The average target price of analysts covering the stock is $187.90 with 71% of analysts rating the stock as a buy, compared to 3% as a sell and 26% as a hold.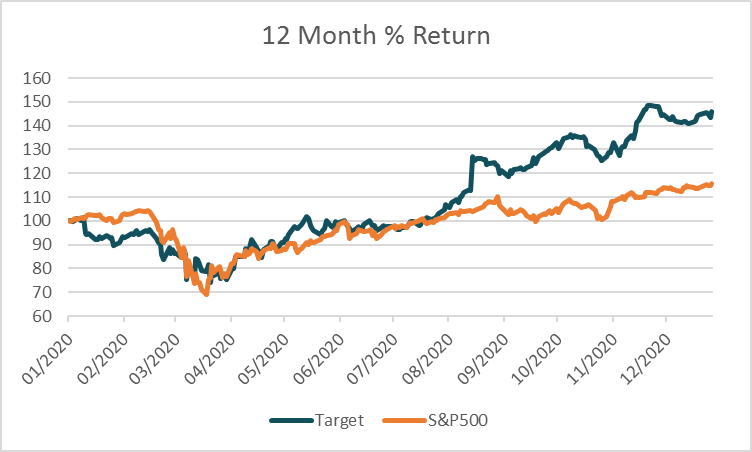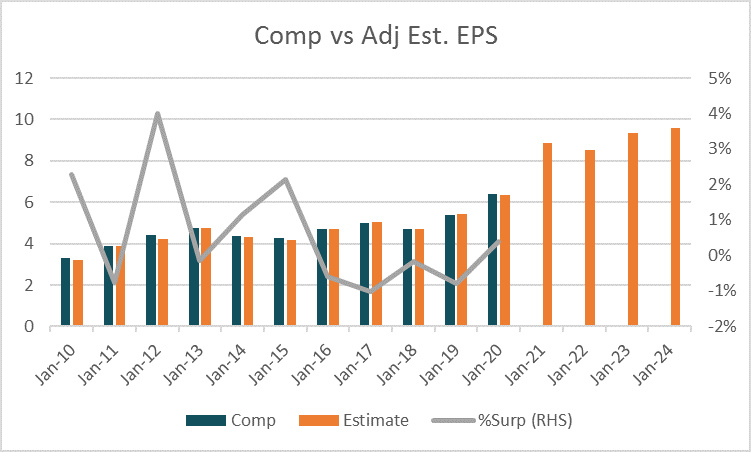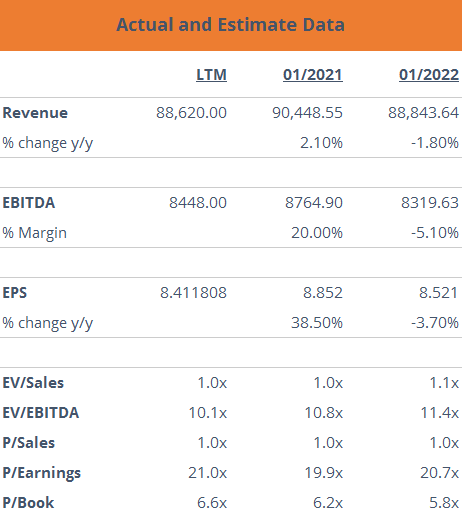 We are glad you liked it
For your convenience, this will appear under your Saved articles in the top menu.