Strategy
Events Trades
Australia
Event Trade: Onevue Holdings Ltd (OVH:ASX)
22 Oct 2020
Onevue Holdings Ltd provides wholesale wealth management services. The Company focuses on superannuation and investment management sectors through fund services and platform services. Onevue targets investment managers, custodians and trustees in Australia and New Zealand.
Current advice: See previous recommendation
Update – 22 October 2020, 11:00 am
We were reluctantly forced to sell OVH at the beginning of the month when it was revealed that the major shareholder, holding roughly 19% of the company, planned to vote against the deal and was contacting other shareholders to encourage them to do the same. Given the requirement for support from 75% of votes cast, this meant a much higher-than-average turnout of shareholders was required to see the deal passed at the scheme meeting, and with the view that the result was going to be a coin toss we decided we couldn't continue to hold.
Well, the coin toss metaphor was pretty accurate as OVH announced yesterday that 75.17% of votes cast supported the deal which was only 0.17% more than needed. Obviously, we're incredibly frustrated we got out with the deal now almost a certainty to complete at 43c but given the tiny margin of error I remain content that the reason to sell was sound. We do not buy Event Strategy investments for chance, and this ultimately was as good as going to the casino and putting our money on red or black at the roulette wheel. I'm very happy for the number of members who took their chances and have seen that courage rewarded, and those members can now hang around to receive the full 43c without incurring brokerage.
To view the rest of our current Event Trades, please click here.
Update – 1 October 2020, 11:00 am
The vast majority of members seemingly were able to sell out of OVH yesterday, but it does appear that a number of members were too late to get out of the stock. Overnight, we have become aware that Thorney Investments is now contacting OVH shareholders to coax them into rejecting the offer which is actually quite the opposite to how we expected things to proceed – typically, it is not unusual for a bidding company in friendly deals to engage with shareholders. It's impossible to predict the impact this will have on the vote, but we can't imagine it will help what we called a coin toss yesterday.
While we do agree with some of the logic behind Thorney's view, we do believe there is downside ahead if the deal fails so our view remains that we need to sell the stock. The stock is trading at 1c below our sell level yesterday of 37c and 37.5c, and we are happy for remaining shareholders to sell the stock at market levels.
Update – 30 September 2020, 10:30 am
OVH has stabilised this morning at 37.5c with some decent buying coming into the screens. Not that this matters in any decision to hold or sell, but 37.5c is the price at which we bought into the stock and selling at these levels would see us break even. Given we've had an increased offer to 43c, this would be a frustrating result, but we need to make a call based on the current situation.
Major shareholder Thorney Investments has made it clear it feels the Iress Ltd (IRE) offer is insufficient and, as a long-term investor, is happy to wear the short-term loss that would come with knocking back the bid. While its stake isn't big enough to block the deal on its own, enough other shareholders will need to vote their shares to see the deal proceed and typically retail shareholders are lazy when it comes to voting. Right now, there is roughly 15% upside if the deal proceeds and perhaps a little more downside if it falls over and my best guess is that it is a coin toss.
While this is a frustrating position to be in, I actually tend to agree with Thorney's view and feel IRE overplayed its hand by declaring its offer final. If the deal eventually falls over and the stock dips, it might even offer a nice opportunity to buy on the re-rating that its peers have enjoyed since IRE bid for OVH. OVH has also signed its biggest ever contract with Australian Unity since the deal was announced so there is good reason to be bullish on OVH's future and share price prospects, but we can't ignore why we bought into OVH in the first place.
The situation has changed dramatically since we entered and we wouldn't buy stocks on a coin toss, and therefore neither should we hold for that same reason. Some members may like the dynamics of the situation and may decide to hold against this advice, but our official advice is to now reduce our sell price in OVH down to around 37.5c (no lower than 37c). There is good buying in the screens around that level so patience should be rewarded.
Update – 29 September 2020, 11:30 am
The selling has been heavy in OVH this morning and members have not been able to get out at the recommended sell level. There is very little buying in the screens so lowering the sell price would not likely help the matter, but frankly, we don't feel the stock is worth selling at any price anyway. There is still a board-supported offer at 43c on the table, and the company will undoubtedly do its best to ensure shareholders vote on the deal. Another 60% of the company's shares will need to be voted on the deal to see it proceed, and with plenty of stock held by executives and institutional investors that would be malleable to the board recommendation, we certainly don't think the deal is guaranteed to be dead.
Using the average share price gain between its main peers since the bid – HUB24 (HUB), Netwealth (NWL) and Praemium (PPS) – of 66%, there is good reason to think OVH's share price would be around where it is today (40c is a 66% premium). So, if the deal does indeed get voted down and arbitrage funds are forced to exit (those which haven't sold in the last two days), there will likely be buying and Iress (IRE) could certainly be waiting in the wings with a new offer if the share price remains depressed. And while Thorney Investments' role in scuttling this deal is frustrating in the short-term, Thorney has a great track record of long-term investing and sees value in the stock at these levels. Thorney is also an investor in HUB and is clearly a big believer in the market opportunity for these platform companies as wealth managers and financial advisors move away from the big banks, and we have owned both HUB and NWL within the Value Strategy and also believe in the long-term potential of these companies.
So, our recommendation remains to keep our sell orders in at 40.5c, but as that is looking unlikely it remains imperative to get in votes supporting the deal. Per yesterday's advice, you can vote by visiting www.investorvote.com.au/ovh
Update – 29 September 2020, 09:30 am
Our excitement on OVH after yesterday's increased offer from Iress Ltd (IRE) was short-lived as the AFR reported that substantial shareholder Thorney Investments was leaning towards rejecting the offer. This complicates the situation greatly as IRE declared its bid final (which is now set in stone according to the Corporations Act), and with a stake of 18.5% as of yesterday (and likely to go to 19.9%) Thorney is a good shot to block the deal with only 25% of votes cast needing to reject the offer. On my calculations, 80% of total shares would need to be voted – all supporting the deal – for the deal to still proceed and these deals don't always get the highest vote turnout although OVH has some time to contact shareholders directly.
With many arbitrage funds in OVH, the deal falling over would likely lead to a big drop in the share price in the short-term. Interestingly though, I'm tending to agree with Thorney that the OVH is too low. Announced on 1 June, this deal has the feel of Cardinal Resources (CDV) to it with a very opportunistically timed deal and in the absence of the takeover I wonder where the price of OVH would be. OVH, which is a platform provider for the wealth management industry, has performed well throughout COVID and its peers – admittedly much larger companies but our best comparison – in HUB24 Ltd (HUB) and Netwealth (NWL) are up 71% and 80% respectively since the deal with IRE was announced. Scale brings operating efficiencies so it's dangerous to compare OVH too much with HUB and NWL, but HUB trades on 15X FY20 revenue and NWL on 28X FY20 revenue whereas this bid is pitched at a little over 2X OVH's FY20 revenue. And, as you can see in the presentation provided in NWL's full year results presentation, OVH is the fourth fastest growing platform in the sector with significant market share gain opportunities ahead of it.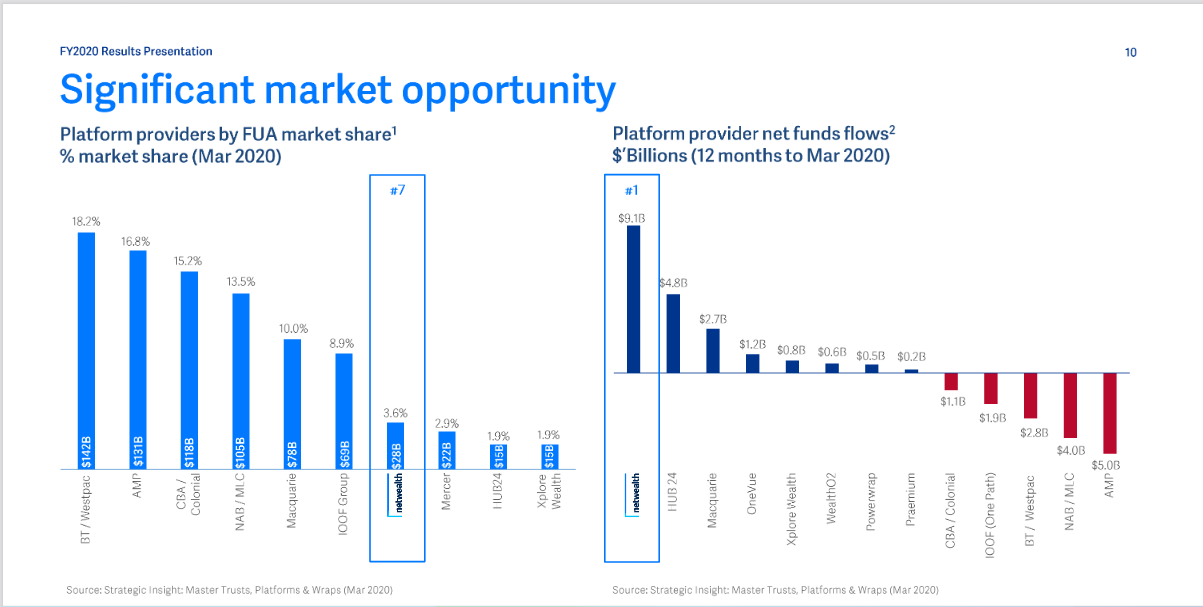 Additionally, Thorney Investments (and its owner Alex Waislitz) are very smart operators and the fact that they feel it is too cheap carries weight. OVH traded at roughly 90c only two years ago and perhaps has only been sold down as far as it had because of its exposure to the failed Sargon Capital, but that shouldn't distract from the value in the growing platform business. There is technically a chance that Thorney could bid for OVH itself, but it doesn't have a track record of getting its hands dirty with running businesses, so I think this is unlikely.
However, we bought into the stock for an arbitrage and we need to consider our position with that investment motivation, so our view is that we will need to sell the stock as part of the Event Strategy. On the reasons listed above, some members may decide to hold onto the stock which is understandable. But if we can get out with a good profit on the elevated chance the deal falls over, we feel we need to take that opportunity. Before market open today, there is good buying at 40.5 and 41c and we recommend members put in their sell orders for the stock down to 40.5c.
Update – 28 September 2020, 09:30 am
OVH has been an incredibly stable investment for members since we got into the stock in June at 37.5c, with a high chance of the deal with Iress (IRE) completing and an attractive arbitrage on offer. At the time of buying the stock we didn't expect a competing offer although suggested one was a possibility, but as the scheme meeting has approached that chance felt more and more remote.
Well, we have been surprised this morning as IRE has raised its offer from 40c per share to 43c per share – an increase of 7.5% from its existing offer and a premium of 14.7% from our entry price. This is a brilliant surprise and we expect it is in response to feedback from some shareholders that IRE might have received, and rather than face a nervous vote on the deal it has increased the offer. Hopefully, the increase gets any wary shareholders over the line and it is time for us to support the deal.
Members should have received their scheme booklets and proxy forms, but the easiest way to vote is to visit www.investorvote.com.au/ovh and enter your shareholder details (found on the proxy form). Once you have accessed your holding, we recommend members voting 'FOR' all proposed resolutions.
Update – 8 September 2020, 10:30 am
OVH sent out Scheme Booklets last week which members should begin receiving. These booklets will provide details on how to vote at the Scheme Meeting due to be held (virtually) on 9 October. We bought into OVH for the arbitrage on offer – a near 7% return if the deal with Iress (IRE) completed – so we are happy for members to get in their votes for this proposal as soon as booklets are received.
OVH is providing a portal on its website to allow shareholders to vote but it doesn't look like it is live yet, so we will provide further advice once we are able to vote. We have until 7 October to get in our votes supporting the IRE deal.
Update – 3 August 2020, 12:30 pm
There has not been much going on with our OVH investment (which is not necessarily a bad thing) but we thought we'd provide a brief update to members. When we recommended OVH at the beginning of June, we stated that we didn't expect a competing bid but that one was possible. That remains the case, but there's no denying that the more time that passes, the less likely we see a new bid. The good news is that we bought OVH for the arbitrage already on offer so any new bid would just be icing on the cake, and the process for the existing deal with Iress Ltd (IRE) remains very much on track.
OVH released an updated timetable for the deal, with scheme booklets due to be sent out at the beginning of next month and with the virtual scheme meeting due to be held at the beginning of October. Assuming all goes to plan, members should receive 40c per share at the end of October which, admittedly is a month behind schedule, but in the world of COVID-19 isn't a huge dilemma.
We will update members further once scheme booklets are sent out but, in the meantime, we remain happy for members to hold/buy at up to 37.5c.
Original Recommendation- 9 June 2020, 10:30 am
The operating environment for most corporates is now stabilising enough to allow opportunistic acquisitions which is great news for our Event Strategy. OVH is a fintech company providing various superannuation services. We have been following OVH since 1 June when it announced that Iress (IRE) had agreed to buy the company for 40c per share. The company's size has been of concern regarding potential liquidity to buy the stock, but we are now comfortable that there is enough volume to enable members to get set.
The deal with IRE comes after OVH has endured a big sell-off throughout the market turmoil in February and March and is pitched at a 67% premium to the stock's closing price in May. At 40c, OVH is going to cost IRE roughly $115m (including costs of the deal) and IRE has conducted an equity raising to support the acquisition; this is a huge positive for our enthusiasm for OVH as an investment and leaves IRE committed to the process.
The offer for OVH is being conducted by way of scheme of arrangement and comes with typical conditions. Interestingly, the usual 'material adverse change' clause has been varied to include damage from Covid-19 so provides us another element of security. Additionally, OVH has been in the news recently as a creditor to the recently failed Sargon Capital and is now in dispute with China-backed Taiping Trustees as to priority distributions from any sales of Sargon's assets. OVH has written down the carrying value of these assets and any further issues have been allowed for in the scheme documentation so there shouldn't be any concern if the fight with Taiping gets ugly.
The stock has settled at 37.5c since the deal was announced which is a typically big discount but in the new Covid-19 world nothing that we haven't seen recently. As IRE has yet to buy a stake in OVH, the stock is very much in play and any other aggressive fintech players looking to expand during this period may cast a glance towards OVH, so there is definitely a chance we see competing bids. Even if 40c is the final price though, members would yield a return of 6.7% at 37.5c which, given the high likelihood that the deal will proceed without a hitch, is an excellent return. Payment is expected in September so we're looking at an annualised return of above 20%.
We are therefore recommending members buy OVH at 37.5c for a short-term arbitrage investment. Because of OVH's size and limited liquidity we will classify the investment as medium risk so please allocate capital accordingly. We are happy for members to pay up to 38c if you are impatient but believe we should be able to get set at 37.5c with some patience.
We are glad you liked it
For your convenience, this will appear under your Saved articles in the top menu.