Morning Market Wrap: US equities give up early gains to close lower
8 Apr 2020
Following strong buying on the open, US stocks drifted lower throughout the afternoon, to finish slightly in the red.
To the specific numbers, and on Wednesday, the S&P500 closed lower by -0.16%, declining by 4.27 points to close at 2659.41. This follows a high of the day of 2756.89, with the utilities, consumer staples, and information technology sectors the weakest, all declining by over 1%. After a strong open to the session, the weak close may suggest that the recent rally is coming to an end. As evident on the chart of the S&P500 below, the recent rally has retraced almost 50% of the February to March decline, which is often seen as a turning point for a corrective rally. At a minimum, we would expect to see a retest of the lows from last week at around 2450.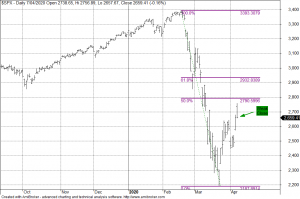 Both the UK and New York State have reported their highest daily death from the Coronavirus pandemic overnight, with estimates that the peaks for both places is still some one to two weeks off. Meanwhile, in Wuhan, China, where the outbreak began, travel restrictions have been lifted following two months of heavy restrictions. Trains are once again leaving the city, and cars are now allowed to exit the highways.
To the local share market, and the ASX200 closed lower by 34.52 points on Tuesday, and is tipped to go lower again today, with ASX SPI200 futures declining by approximately 1% in overnight trading, closing 52 points lower at 5190.
In Australian stock news, the ratings agency Fitch has cut their rating on all of the Big 4 Australian retail banks, with an outlook set to negative. This follows their updated guidance for Australian GDP, now estimated to contract by over 2% in 2020. Unlike in other jurisdictions such as Europe, we are yet to see the banks announce cuts to future dividends, but the pressure to do so is mounting. On Tuesday, APRA announced in a statement, that they expect "ADIs and insurers to limit discretionary capital distributions in the months ahead……. including prudent reductions in dividends". The full statement can be found at the following link.
*Note: These prices are based on futures and/or CFD pricing and may therefore differ slightly from spot pricing.
In terms of economic data releases, as expected, the Reserve Bank of Australia (RBA) left the cash rate unchanged on Tuesday at 0.25%. Australia's trade balance came in better than expected, showing a $4.3 billion trade surplus for February, compared to market expectations of $3.8 billion. Today at 11:30am, we have home loan data for the month of February, which is the last major data point until after Easter.
Commodities and Currencies
Commodity prices were largely firmer, with WTI crude oil prices gaining 2.50% to close at US$24.22 a barrel, while natural gas (+2.21%), copper (0.92%), and nickel (+0.44%) were also firmer. Spot Gold prices dipped around US$13 an oz to be currently trading at US$1648.66. The Australia dollar continues to rally, to be currently at 61.64 US cents. The currency is finding plenty of buying at current levels, as the RBA said that it is likely that smaller and less frequent quantitative-easing debt purchasing will be required going forward, as conditions improve. In addition, the yield on the Australian 10-year bond rallied strongly, to be currently at 0.908%, up from levels around the 0.60% just a week ago.
A reminder that with Easter this weekend, we will have back to back shortened trading weeks, with Friday the 10th and Monday the 13th both public holidays.
This article was written by Oliver Gordon – Account Manager, Rivkin Securities Pty Ltd. Enquiries can be made via [email protected] or by phoning +612 8302 3623.
We are glad you liked it
For your convenience, this will appear under your Saved articles in the top menu.