Morning Market Wrap: U.S. equities retreat in late trading, ASX to open lower
21 Jan 2022
Shares on Wall Street reversed early gains to trade lower towards the close as data showed initial jobless claims rose more than forecast with Treasury yields edging lower.
As of 07:36 am AEDT the S&P500 was -0.28% lower with declines in technology -0.64% and consumer discretionary -1.33% weighing as 67% of stocks traded lower The Dow Jones declined -0.40%, the Nasdaq Composite weakened -0.75%, the Russell 2000 was also -0.48% lower while the VIX was -0.59% lower at 23.71. Shares in Peloton sunk -24.3% on a report by CNBC citing internal documents that the company is temporarily halting production of bikes and treadmills due to slowing demand. Netflix traded -0.99% lower ahead of reporting Q4 2021 earnings after the close where investors will be focused on subscriber growth.
U.S. initial jobless claims for January 15th were higher than forecast at +286k vs +220k predicted and +231k previously, although the weaker figures are likely the result of the Omicron variant rather than a change in the strength of the labour market. Continuing claims for January 8th rose to +1.635m vs +1.580m forecast. Treasury yields edged lower with the 2-year down -1 basis points to 1.047%, as did both the 10 and 30-year rates -3.4 and -3.7 basis points to 1.831% and 2.139%. The U.S. dollar extended its recent strength, rising +0.23% to 95.73.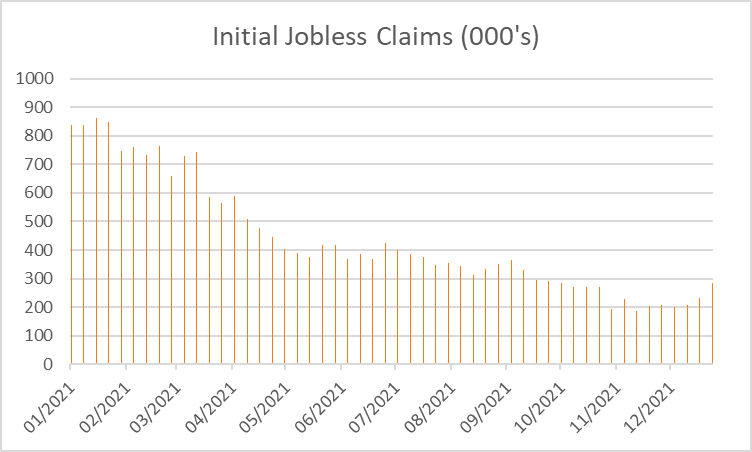 European equities were higher after inflation was in line with estimates with core prices rising +2.6% over the year to December as forecast. Headline inflation rose +5% over the year as expected from +4.9% previously, up +0.4% over the month also in line with expectations. The Euro Stoxx 600 rose +0.51% lifted by industrials +0.75% and technology +1.15% as energy -1.05% lagged. The DAX also rose +0.65% as did the CAC +0.30% while the FTSE100 lagged -0.06%. 10-year bond yields across the region were lower ranging from -1.2 basis points in Switzerland to -3.7 in Italy, the Euro weakened -0.23% to 1.1317 and the Pound was unchanged at 1.3612.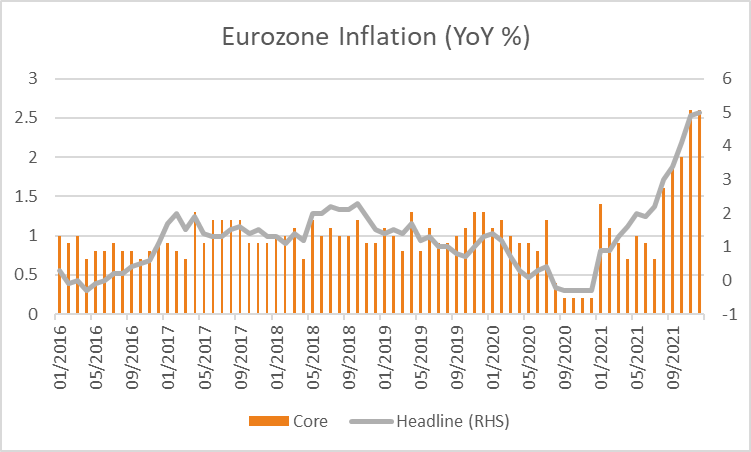 *Note: These prices are based on futures and/or CFD pricing and may therefore differ slightly from spot pricing.
The ASX looks set for a weaker open with ASX200 futures down -45 points or -0.62% to 7,200. The index rose +0.13% on Thursday as gains in materials +2.99% offset weakness in financials -0.76% and real estate -1.06%. Gold miners were among the top performers after a strong gain in the precious metal with Northern Star Resources up +11.20%, as was Evolution Mining +8.92%, Chalice Mining +7.46% and Silver Lake Resources +6.96%. The unemployment rate reached a 13-year low in December, declining to 4.2% better than the 4.5% forecast with 64.8k jobs added in the month also higher than the 43.3k expected. The Australian dollar rose +0.29% to 0.7232 following the employment figures, lifting expectations that the Reserve Bank of Australia will lift rates with Westpac bringing forward its first hike expectations to August.
Oil prices were lower overnight with WTI down -0.07% to US$86.90 as was Brent -0.70% to US$87.77. Data showed U.S. crude stockpiles unexpectedly rose by +515k barrels against estimates for a -938k barrel decline as gasoline stockpiles rose +5.873m barrels, more than the +2.634m predicted. Iron ore was +2.52% higher on Thursday at US$133.83 and is a further +2.41% higher this morning at US$137.05. Gold edged -0.10% lower to US$1,838.61 following Wednesday's strong gains while silver rose a further +1.43% to US$24.48 and Bitcoin rose +2.36% to US$42,707.
Economic data:
Japanese Inflation (YoY Dec) 10:30
U.K. Retail Sales (YoY Dec) 18:00
ECB President Lagarde Speech 23:30
Eurozone Consumer Confidence (MoM Jan) 02:00
U.S. Conference Board Leading Index (MoM Dec) 02:00
This article was written by James Woods, Portfolio Manager, Rivkin Securities Pty Ltd. Enquiries can be made via [email protected] or by phoning +612 8302 3632.
We are glad you liked it
For your convenience, this will appear under your Saved articles in the top menu.