Morning Market Wrap: ASX to rise as Wall Street posts record highs on stronger economic data
16 Apr 2021
U.S. equities posted fresh all-time highs on Thursday boosted by stronger economic data and a decline in treasury yields.
Retail sales advanced +9.8% for March, topping estimates of +5.8% with the February figure also revised higher from -3% to -2.7% pointing to pent-up demand by consumers ready to spend. Meanwhile, initial jobless claims for April 10th were 576k vs 700k forecast while continuing claims for April 3rd was slightly higher than expected at 3.3731m vs 3.7m. Sentiment was further boosted as the US Centres for Disease Control and Prevention reported 125.8 million Americans have received at least one vaccine dose or 37.9% of the population. Despite the stronger economic data treasury yields declined where typically they would be expected to rise with analysts pointing to short covering as well as favourable demand from overseas and hedging flows. The 2-year yield was little changed at 0.159% while the 10-year declined -5.6 basis points to 1.576% and the 30-year declined -4.2 basis points to 2.269% flattening the 2-10 yield curve by -5.3 basis points to 1.42%.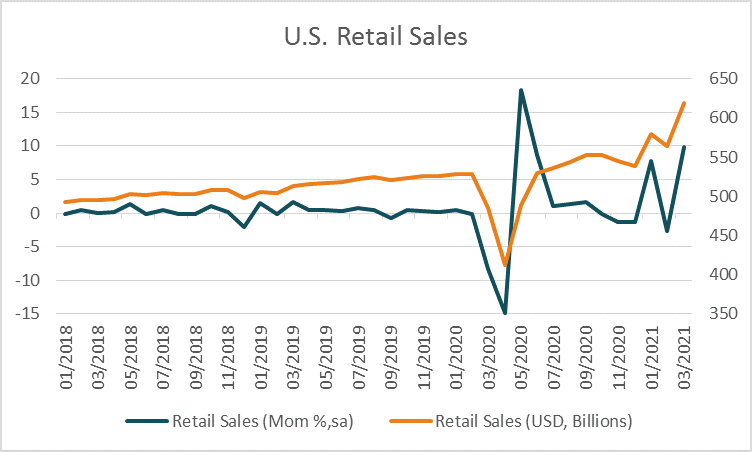 The S&P500 jumped +1.11% to a new all-time high boosted by technology +1.79% and health care +1.74% with only energy -0.88% and financials -0.11% lower despite better than forecast earnings by some of the largest U.S. banks. The Nasdaq Composite gained +1.31% to be just -1.44% below its all-time high, the small-cap Russell 2000 rose +0.42%, the Dow Jones Industrial Average rose +0.9% also to a new all-time high and the VIX declined -2.47% to 16.57.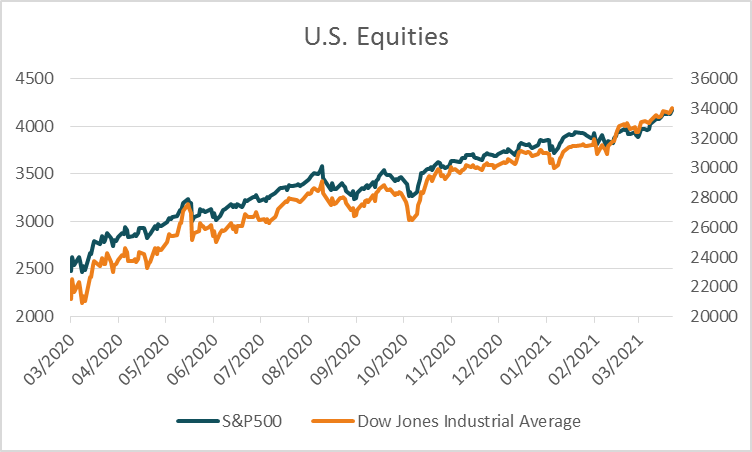 In Europe, the Euro Stoxx 600 rose +0.45% to new highs with the DAX also up +0.30%, as was the CAC40 +0.41% and commodity heavy FTSE100 +0.63% boosted by gains in metals. The Euro dipped -0.11% to 1.1967 and the Pound edged +0.06% higher to 1.3787 with yields across Europe dropping with 10-years ranging from -6.7 basis points in the U.K. to -3.3 basis points in Germany. Investors will focus on inflation data released at 19:00 AEDT on Friday with core prices expected to rise at +0.9% over the year to March from +1.1% previously.
*Note: These prices are based on futures and/or CFD pricing and may therefore differ slightly from spot pricing.
The ASX looks set to rise although at a slower pace than Wall Street with ASX200 futures up +0.21% at 7,051. The benchmark index gained +0.51% on Thursday boosted by materials +1.83% and financials +0.43% while utilities -0.89% and communications -0.80% lagged. The Australian dollar gained +0.31% to 0.7752 after better than expected unemployment data for March which showed 70.7k jobs were added against estimates of 35k with the unemployment rate edging lower to 5.6% from 5.8% previously and forecasts of 5.7%. In an encouraging sign, hours worked jumped +2.2% reaching highs above pre-pandemic levels although with the participation rate still set to rise, dampening the pace at which space capacity is reduced.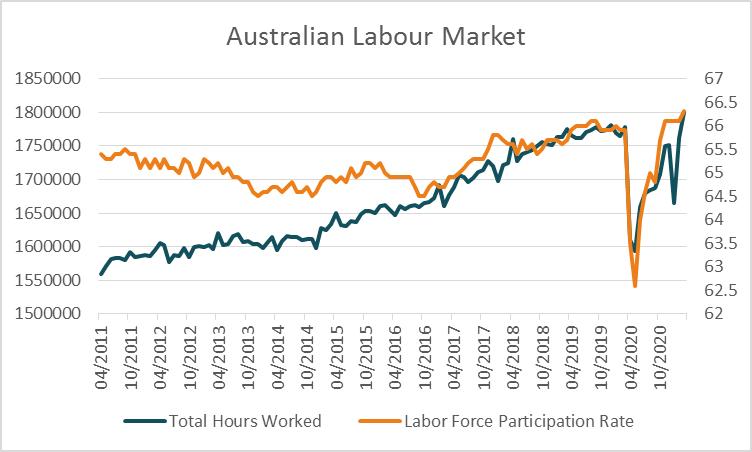 Commodity prices were generally higher on Thursday although oil was mixed with WTI crude up +0.49% while Brent lagged -0.15% to US$63.46 and US$66.84 a barrel respectively. Base metals pushed higher led by gains in copper +1.97%, aluminium +1.33%, nickel +1.34% and iron ore +3.34%. The metals were pushed higher with speculation China will enact deeper supply cuts as part of a crackdown on industrial pollution and decreasing supply globally with Goldman Sachs raising their price forecast for copper to US$15,000 by 2025 supported by a transition to green energy. Precious metals rose boosted by weaker real yields, with spot gold reaching a six-week high up +1.58% to US$1,763.95 and spot silver up +1.68% to US$25.85 and Bitcoin gained +1.64% to a new all-time closing price of US$63,410.
Economic data:
Chinese GDP (QoQ Q1) 12:00
Eurozone Inflation (YoY Mar) 19:00
US. Michigan Consumer Sentiment (MoM Apr) 00:00
This article was written by James Woods, Portfolio Manager, Rivkin Securities Pty Ltd. Enquiries can be made via [email protected] or by phoning +612 8302 3632.
We are glad you liked it
For your convenience, this will appear under your Saved articles in the top menu.