Morning Market Wrap: U.S. equities mixed on retail sales, ASX to open lower as iron ore weakens
17 Sep 2021
U.S. equities were mixed while Treasury yields rose on Thursday following varied retail sales data for July and August as well as initial jobless claims increasing, breaking a streak of declines.
Retail sales for the month of August surprised to the upside, rising +0.7% vs estimates for a -0.7% decline providing some relief to concerns of an economic slowdown, although the figures do not include two-thirds of consumer spending which relates to services. While the beat is positive, the July figures were revised lower from -1.1% to -1.8% consistent with the impact of the Delta variant seen in restrained restaurant spending and online sales. A measure excluding auto sales which have been impacted heavily due to the effects of the pandemic rose +1.8% beating estimates of 0% although the July figure was also revised lower from -0.4% to -1.0%. Elsewhere, initial jobless claims rose for the week to September 11th up +332k vs +322k forecast from a slightly revised higher +312k the prior week. Business inventories were in line with estimates at +0.5% from a prior revised +0.9% and tonight we'll get a look at the preliminary consumer sentiment for September.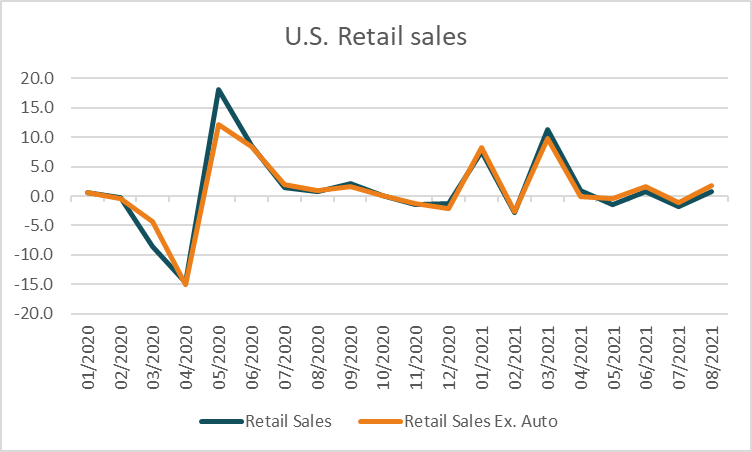 The S&P500 swung between gains and losses before closing -0.16% lower weighed by industrials -0.66%, health care -0.25% and materials -1.09%. The Dow Jones also closed -0.18% lower, the Russell 2000 edged -0.07% lower while the Nasdaq Composite rose +0.13% and the VIX gained +2.81% to 18.69. Treasury yields were higher following the economic data with the 2-year up +0.8 basis points to 0.219% with both the 10 and 30-year yields also rising +3.9 and +2.4 basis points to 1.338% and 1.883%. A modest rise in breakeven inflation rates pushed real yields across 5 and 10-years +3 and +2.9 basis points higher respectively, with the U.S. dollar index gaining +0.35%.
European equities rose with the Euro Stoxx 600 up +0.44% lifted by industrials +1.35%, financials +0.78% and technology +0.76%. Leisure and travel stocks rose +3.4% after low-cost carrier RyanAir lifted its long-term traffic forecast with the stock rising +7.9% also lifting rivals EasyJet and WizzAir by +7.35% and +5.15% in London. European equity benchmarks were broadly higher with the DAX gaining +0.23%, as did the CAC +0.59% and FTSE100 +0.16%. Both the Euro and Pound weakened -0.42% and -0.33% against a stronger USD ahead of inflation data for the Eurozone tonight at 19:00 AEDT forecast to show core prices rose +1.6% for the year to August from +0.7% previously.
*Note: These prices are based on futures and/or CFD pricing and may therefore differ slightly from spot pricing.
The ASX looks set to open on a weaker note this morning with ASX200 futures down -18 points, or -0.24% to 7,424. The index rose +0.58% on Thursday boosted by financials +0.86%, health care +0.91% and industrials +0.78% while consumer discretionary was the only negative sector, down -0.05% after disappointing employment data. Employment dropped -146.3k in August surpassing estimates for a -90k decline. Meanwhile, the unemployment rate unexpectedly declined to 4.5% from 4.6% previously, missing estimates for a rise to 5%. While this would usually be a reason to celebrate, the decline does not reflect a strong labour market, rather a decline in the participation rate by -0.8% to 65.2% as well as hours worked declining -3.7% due to the impact of locked-down regions. The underemployment rate better reflects the underlying situation, rising to +9.3% from +8.3% in July. The Australian Dollar declined -0.56% to 0.7292 while the yield on 10-year government bonds rose +5.5 basis points to 1.263%.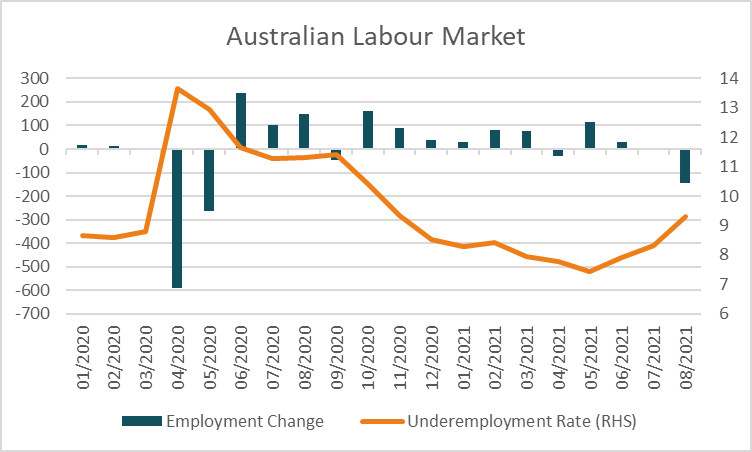 WTI crude was unchanged overnight at US$72.61 while Brent crude rose +0.23% to US$75.63. Iron ore futures continued to weaken after Chinese regulators were said to include more cities in its pollution targeting campaign. Iron ore futures in Singapore fell -6.96% on Thursday and are trading a further -4.63% lower this morning at US$102.40 having traded as high at US$203 in July. Gold and silver came under pressure against higher real yields and a stronger USD with gold declining -2.25% to US$1,753.77 and silver falling -3.92% to US$22.91. Bitcoin weakened -1.65% to US$47,149.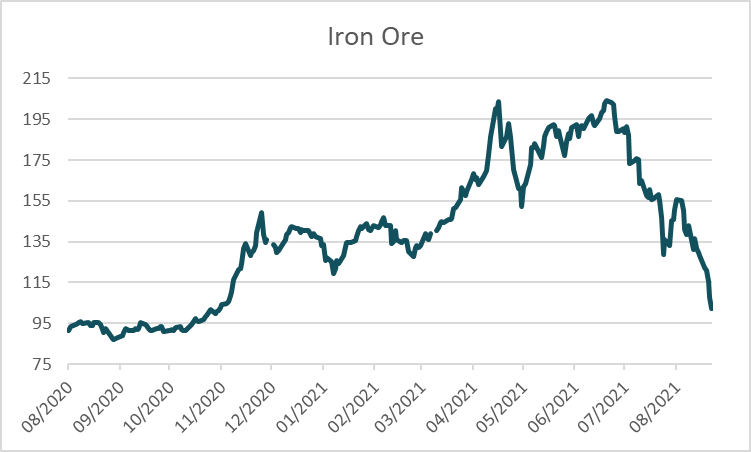 Economic data:
Eurozone Inflation (YoY Aug) 19:00
U.S. Michigan Consumer Sentiment (MoM Sep) 00:00
This article was written by James Woods, Portfolio Manager, Rivkin Securities Pty Ltd. Enquiries can be made via [email protected] or by phoning +612 8302 3632.
We are glad you liked it
For your convenience, this will appear under your Saved articles in the top menu.