We're looking at another big selloff today, and as things change rapidly it's worth updating members since our last commentary on the very swift falls we're seeing.
The first change is that surprisingly the last few days have not been about the coronavirus primarily, but because Russia and Saudi Arabia have effectively declared an oil price war against each other at what is clearly a very dangerous time with demand for oil sagging because of the coronavirus. This is a very bad development as oil prices have plummeted over 30%, and this alone would shave a large chunk off the already anaemic global inflation numbers. Inflation is key for economic growth so there's no sugar-coating it – this is bad news!
Perhaps the second big change is that we are now seeing the effects of a government in the United States that seems woefully unprepared for the coronavirus. It's ironic that a nationalistic administration, hellbent on distancing itself from the globalisation of the world economy, is now facing its biggest challenge from abroad and bungling the policy response. The U.S. healthcare system is a mess – over 30 million Americans are uninsured and right now it is very hard to get tested for coronavirus in the U.S. The only policy response we have seen was a bungled interest rate cut when I think the market would respond very favourably to measures such as free virus testing and free treatment which would ensure a far quicker reduction in infection rates.
As scary as a global pandemic sounds, the best news to be gleaned in recent weeks is the incredible handling of the outbreak seen in China (and South Korea seems to be handling things well) after initially trying to downplay the severity of the problem. While quarantines that China have implemented can't reasonably be expected to be seen in countries like the U.S., China has shown that the world doesn't need to wait for a vaccine to get on top of the outbreak. How western governments respond will be key to seeing infections start to wane, which will be the beginning of a return to normality.
The final big change that has occurred in the past week or so is that the panic about the infection is very much starting to translate into a real-world economic slow-down. The combination of global panic and plummeting oil prices means a global recession is becoming more likely; however, we remain of the view that any recession will be short-lived (as long as governments in the U.S., Italy etc get a handle on the situation). Eventually life will return to normal, either as early as infections start to reduce or a vaccine is released. And the oil price war between Russia and Saudi Arabia is very dangerous considering both economies' reliance on oil revenues, and this too will come to an end.
For those of us who still can remember the GFC as a fresh wound, remember that this is not another GFC. The GFC was a credit crunch, which meant that companies and banks no longer trusted each other as counterparties and no longer trusted doing business with each other. Companies were highly leveraged at the time and many companies were at risk of failure. This time around, there will be companies particularly exposed such as oil companies and tourism companies who may not have the balance sheet to withstand a hit to revenues. But the vast majority of companies on the ASX are not at risk to fail and, if one can truly adopt a long-term view, are likely to be great investment opportunities at current levels.
Finally, I have attached two charts that I saw released by AMP Capital. They are pretty self-explanatory but should indicate that panicking, especially after the falls we have already seen, has never been the smart decision in the history of the stock market – what are the odds it will be this time around? One's long-term strategy should be the same during bull markets and bear markets, so this sell-off should be looked at no differently.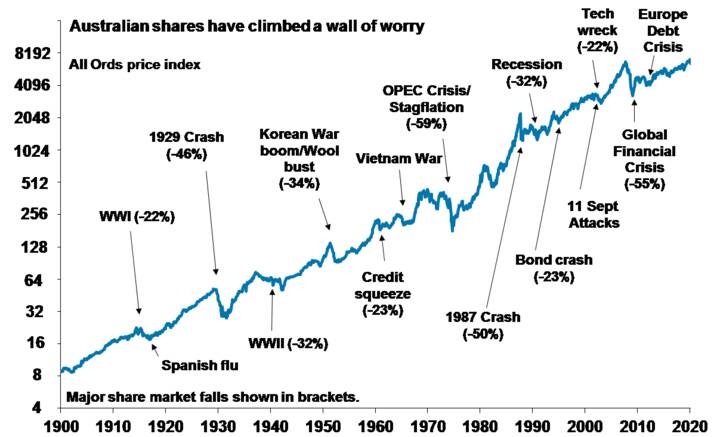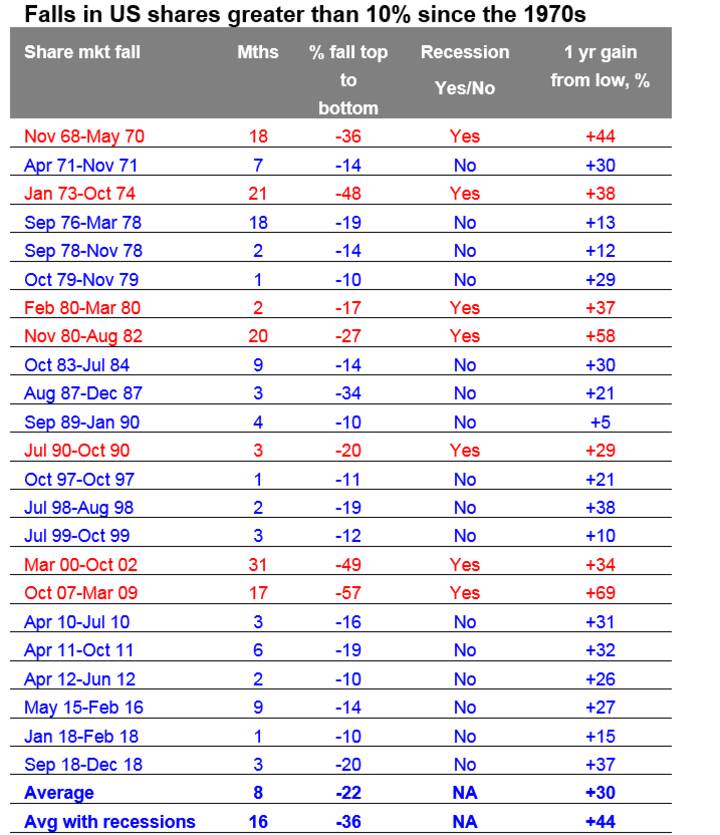 Recommendations for you
Strategy 2 May 2020
Strategy 2 May 2020
Video 30 Jan 2020
We are glad you liked it
For your convenience, this will appear under your Saved articles in the top menu.